Date:
April 22, 2013
Contact:
Charlotte Gillis, 404-507-5692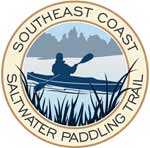 The Southeast Coast Saltwater Paddling Trail (SECT) officially launches its website on Friday, April 19, 2013.www.secoastpaddlingtrail.com.The East Coast Paddlesports & Outdoor Festival at James Island County Park in Charleston, SC is the site of the kick-off for the SECT website.The partners of the SECT are especially grateful to Charleston County Park & Recreation Commission and SC Department of Natural Resources for including the SECT event at the Paddlesports Festival. http://www.ccprc.com/index.aspx?nid=1542
The National Park Service-Rivers, Trails & Conservation Assistance Program (RTCA) coordinated the following planning partners for the SECT project: Virginia Department of Conservation and Recreation, South Carolina Department of Natural Resources, the Georgia Department of Natural Resources, and The Conservation Fund of North Carolina, the Coastal Regional Commission of Georgia, the Hampton Roads Planning District Commission, and the Charleston County Park and Recreation Commission.
The SECT connects the Chesapeake Bay and the Georgia-Florida border. For over 760 miles, the Trail hugs the coastal waters of Virginia, North Carolina, South Carolina, and Georgia, providing a unique opportunity for paddlers to experience an unbroken trail through four states in the tidal marshes and rivers of the southern USA.There is a primary trail corridor in each state with access sites listed along the corridor.Paddlers can now plan a trip within or between these states and know where to plan for their access, lodging, and supplies.
For the truly adventurous paddlers, the Trail provides a connection between two other well-known regional trails. The northern terminus connects with the Captain John Smith Chesapeake National Historic Trail and the southern terminus connects with the Florida Circumnavigational Saltwater Paddling Trail.