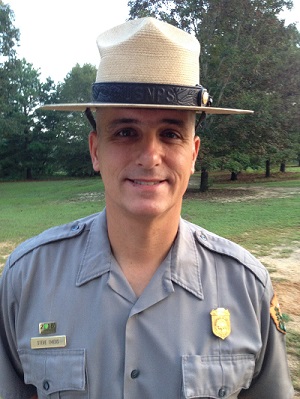 News Release Date:
September 4, 2015
Fort Frederica National Monument is pleased to announce the selection of Site Manager, Steve Theus. 
"Steve is an outstanding leader with strong communication and problem solving skills.He is a true team builder who cares for his employees, park partners and visitors," stated Superintendent Gary Ingram.
Steve Theus began his career withthe National Park Service in 1993 as a Youth Conservation Corp (YCC) crew leader at Jimmy Carter National Historic Site and later that summer was selected as a co-op student for both Andersonville National Historic Site and Jimmy Carter National Historic Site. Steve graduated from Georgia Southwestern State University, with a Bachelor of Science in History and accepted a position as an Interpretive Park Ranger in the Florida district ofGulf Islands National Seashore. In 1997, he moved back to Jimmy Carter National Historic Site as a Park Ranger in the Division of Interpretation. Since 2009, he has served as the Chief of Interpretation for the site including three stints as Acting Superintendent. 
While with Jimmy Carter National Historic Site, Steve has created many park programs and worked closely with the community of Plains and park partners.
Steve has been awarded the Freeman Tilden Award, for the Southeast Region, for excellence in interpretation and he and his staff have been awarded the Keeper of the Light award in both interpretation and in partnership with the Department of Education in the State of Georgia.
"I am honored to have been selected as park manager ofFort Frederica National Monument." said Theus. "I am looking forward to the opportunities this new position has to offer and to work with the park staff and the community of Saint Simons Island."
Steve has a loving family with his wife Samantha and their two children, Knox and Isabella. Knox is a freshman attending Georgia Southern University and Isabella is in 5th grade.They are also fond of their two furry family members, Scout and Basil. They are relocating from Ellaville, Georgia. Theus will begin this new assignment October, 2015.