Junior Ranger Day, Saturday April 28th
Date:
April 20, 2007
Contact:
Kim Coons, 912-638-3639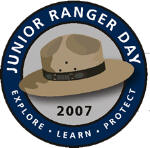 On Saturday, April 28, 2007 the National Park Service will hold its first National Junior Ranger Day. As part of this special day Fort Frederica National Monument will unveil its new and improved Junior Ranger Activity book, funded through the generous support of the Fort Frederica Association. The park has had a Junior Ranger program for many years, but this new book will be unlike any other junior ranger book in the National Park System. The book is one part junior ranger book and one part pop-up book and entirely unique. Children age 8 -12 to are invited to become Junior Rangers at Fort Frederica throughout the day. Although the new book will premier on Saturday, April 28 it will available through out the year, not just that day.
According to Park Ranger Jon Burpee, "This goes way beyond the traditional junior ranger activities of crossword puzzles and word searches. Participants will go on a journey through Frederica's history." Using activity kits the Junior Rangers will actually feel they are going back in time to the 18th century. Once the journey is complete the new Junior Rangers will receive a badge and certificate heralding their achievement.
For additional information on this program please don't hesitate to contact the Visitor Center at 912-638-3639. There is no charge for this program, but the normal entrance fees apply - $3 per person age 16 or over.
Last updated: April 14, 2015