Date:
September 29, 2008
Contact:
Cynda Carpenter
, 912-638-3639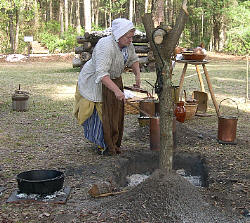 As a continuation of the Frederica Folkways Programs please join us for an informative and fun look at the age old question "What's for Dinner, Mom?"
On Saturday, October 25, 2008 from 10 a.m. until 3 p.m. join a Park Ranger for an on-going cooking demonstration.  Learn how the settlers adapted both new foods and cooking methods to help them survive in the infant colony of Georgia.
A costumed interpreter will spend the day cooking, explaining and demonstrating 18th century cooking techniques. New settlers to the infant colony of Georgia faced many problems, not the least of which was keeping their families fed.
Cooking was a major part of a woman's life here at Frederica and it was an all-day process. A task that started before dawn to get fires started (that needed to be tended all day) and did not end until the last of the clean-up was finished. Settlers needed to adapt new foods and cooking methods in order to survive.
There is no charge for this program beyond the normal Park admittance fee. In case of heavy rain please call the Park for reschedule date.
Fort Frederica National Monument is open daily from 9 a.m. to 5 p.m. Admission is $3 per person (age 16+). For further information about these programs and the expanding number of programs at Fort Frederica National Monument, please contact the park Visitor Center at 912-638-3639.