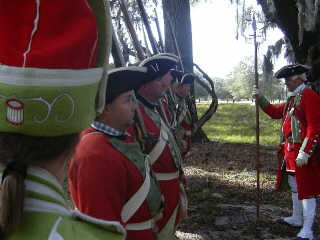 News Release Date:
February 12, 2010
Contact: Jon Burpee, 912-638-3639
The National Park Service at Fort Frederica National Monument is pleased to announce the details of the 2010 Fort Frederica Living History Festival which occurs on
February 20, 2010
. This annual event commemorates the founding of Frederica in 1736 and provides a wonderful opportunity for Frederica's visitors to actively participate in the history of the site and of colonial Georgia.
Admission is free for the Festival which begins at 10 AM and concludes at 4:00 PM.

"We welcome the community to come and experience the history in their own backyard. The Festival is a great way to learn about Georgia's early history and have fun while doing it," says Superintendent Mary Beth Wester.
Activities throughout the day will immerse visitors into the history of Frederica and the struggle for empire between Great Britain and Spain in the 18th Century. Volunteers from throughout the region will help the National Park Service bring this history to life. From Castillo de San Marcos in St. Augustine, Florida Spanish soldiers will explain the Spanish side of the story while they demonstrate firing a black powder cannon. Soldiers from Ft. Frederica's volunteer regiment will portray the 42nd Regiment of Foot and explain their role in determining the future of the Colony of Georgia. From Darien, GA Scottish Highlanders in all their kilted glory will demonstrate musket firing. Volunteers from Fort Frederica's own growing volunteer program will provide hands-on programs throughout the day.
Special programs will focus on giving children a hands-on experience with the history of Frederica. Programs include hands-on musket drills, colonial children's games, journal making, and archaeology programs. Participants who complete all of the activities will have an opportunity to 'enlist' in either the British or Spanish army at the end of the day.
Also in the Visitor Center, the
Stewart-Law Baroque Trio
will play period music on the cello, flute, and harpsichord from
1-3 PM
in the Visitor Center.
For further information about this event and the expanding number of programs at Fort Frederica National Monument visitors may contact the park Visitor Center at 912-638-3639.