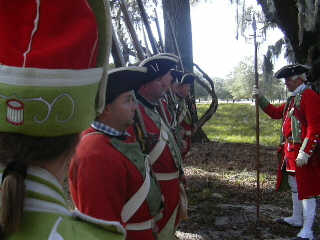 News Release Date:
October 15, 2008
Contact: Jon Burpee, 912-638-3639
The National Park Service at Fort Frederica National Monument is pleased to announce the expansion of it Volunteer-In-Parks (VIP) program. The goal is to provide more visitor services and allow the National Park Service to accomplish a higher level of preservation and interpretation of the historic site.

"The National Park Service wants to help bring the history of the site alive. We need the help of the community to do this," said park volunteer coordinator Jon Burpee.
The park is looking for a few dedicated volunteers to portray soldiers of Alexander Heron's Company of the 42nd Regiment – the British redcoats who served on St. Simons Island from 1738-1749. These living history volunteers will wear period clothing while presenting programs about the history of Frederica and the conflict with Spain. Living History volunteers will also get to travel to events at historic sites throughout the southeast. These volunteers will participate in historic weapons safety training since musket and cannon firing demonstrations will be required as a member of the 42nd Regiment.
According to Chief Ranger Kim Coons, "We are excited to get these programs started in earnest. Fort Frederica has such a unique story. We're just looking for a few good people to help us tell it."
An informational meeting will be held at 7 pm on Saturday October 25th at Fort Frederica National Monument. Reservations are requested. Please call Jon Burpee at 912-638-3639.