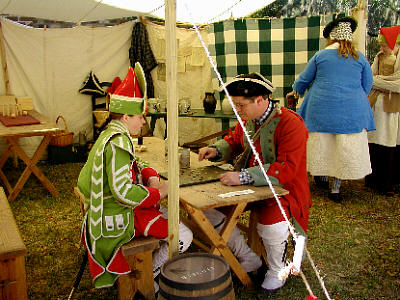 News Release Date:
April 1, 2010
Contact: Jon Burpee, 912-638-3639
Fort Frederica National Monument Superintendent Mary Beth Wester is pleased to announce a special evening living history program that will immerse visitors in an important aspect of colonial culture- the tavern. On Saturday, April 10, 2010 at 7:00 pm, visitors are invited to join some of Frederica's 18th-century residents at the site of the Bennett Tavern. The program will begin in the Visitor Center from where visitors will be led on a "pub crawl" to the various taverns within Frederica Towne, ending at the site of the Bennett Tavern. Taverns were an important focal point of colonial towns like Frederica. Visitors will enjoy an evening in a colonial tavern and learn some of the stories of Frederica's past, participate in colonial tavern games and sing period tavern songs. Non-alcoholic refreshments will be served to participants. Admission fees will be charged (See below for information on admission fees).
Admission Fees: Adults (age 16 +) are $3.00 per person. Children under age 16 are free. Fort Frederica, Interagency and Golden passes are valid for admission to the park and it events.
For further information about this event andt the expanding number of programs at Fort Frederica National Monument visitors may contact the park Visitor Center at 912-638-3639 or visit the park website at www.nps.gov/fofr.