Pets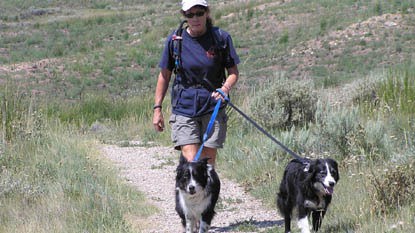 Pets are welcome in Fossil Butte National Monument parking areas and on trails, but they must be under physical restraint at all times. Pets are not allowed inside the Visitor Center building.
For the safety of your pet, other people, and park wildlife, please observe the following regulations:
Pets must be leashed (6 foot or shorter leash) and under control at all times
Pets may not be left in a situation where food, water, shade, ventilation, and other basic needs are inadequate
Owners must bag and dispose of pet waste
While it is possible for pets to remain in your vehicle while you're inside the Visitor Center, we recommend that someone in your group remain behind to personally ensure your pet's well being. Even with windows left cracked, the inside of cars can heat up to 100+ degrees quickly on a sunny day.
Service Animals
Service animals accompanying a person with a disability, as defined by Federal law and Department of Justice regulation (Title 28 Code of Federal Regulations 36.104), are allowed wherever visitors or employees are allowed.


Last updated: December 20, 2022