Fossil Bird Species
Over 30 species of birds, belonging to more than 20 families, have been identified from the Fossil Butte Member (FBM). The bird fossils include:
Isolated feathers (the most common bird fossil from the FBM)
Isolated feet, wings, and other body parts
More than 200 skulls and relatively complete skeletons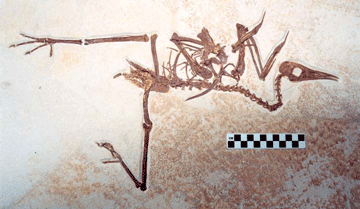 Shoreline Bird - Pseudocrypturus cercanaxius
Order Lithornithiformes, Family Lithornithidae
P. cercanaxius
had long legs and a long, narrow beak. It was likely a wading bird that inhabited the shoreline of Fossil Lake, using its long beak to search for insects and other invertebrates.
The wing and foot structure suggest that, unlike its living relatives in the superorder Paleognathae,
P. cercanaxius
was capable of sustained flight and perching.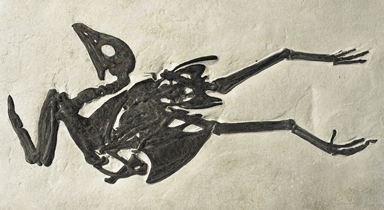 Land Fowl - Gallinuloides wyomingesis
Order Galliformes, Family Gallinuloidade
The Galliformes order has over 200 living species, divided into 8 families. Most of these species are ground-feeding herbivores, including pheasants, turkeys, chickens, and quails. These species are capable of flight, but are commonly known to run in the escape of a predator.
G. wyomingesis
is the oldest known species of the Galliformes order. It was also the first bird species discovered in the FBM.
G. wyomingesis
is considered a non-aquatic bird, but it has been found in both near-shore and mid-lake deposits. This indicates that
G. wyomingesis
may have attempted to fly over Fossil Lake on occasion.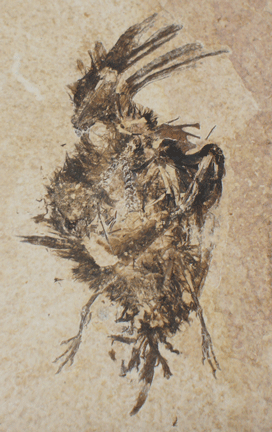 Early Roller - Primobucco mcgrewi
Order Coraciiformes, Family Primobucconidae
Modern members of the Coraciiformes include "true" roller birds. Modern rollers are:
strong fliers
characterized by large heads and short legs
insectivores, typically catching and eating insects while in flight
found in the tropical and warm temperate regions of Africa, Europe, Asia, and Australia
P. mcgrewi
is the only species in the Primobucconidae family, and is considered a stem roller. It may have been more omnivorous than modern rollers.
P. mcgrewi
is one of the most common bird species found from Fossil Lake.
Parrots - 4 Species Identified: Cyrillavis coldurnorum & Cyrillavis olsoni & Avolatavis tenens & Tynskya eocaena
Order Prittaciformes
Family Halcyornithidae - C. coldurnorum & C. olsoni
Family Quercypsittidae - A. tenens
Family Messelasturidae - T. eocaena
The modern Prittaciformes (parrot) family:
includes almost 400 living species
found primarily in tropical and subtropical regions
live in the Caribbean, Pacific Islands, South America, Central America, southern North America, southern Asia, Australia, and Africa
identifiable by strong, curved beaks, necessary for feeding on nuts and large seeds
Fossil Lake is thought to have been a hot-spot for early parrot diversity.
the FBM contains the earliest, well-preserved fossil parrots in the world
FBM parrots lack the modern parrots' characteristic beak, suggesting their diet was less specialized
Last updated: September 28, 2017