Date:
October 6, 2009
Contact:
Jeff Wolin, 719-748-3253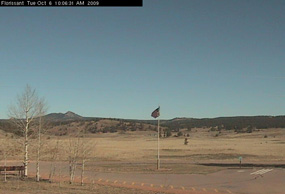 Florissant Fossil Beds National Monument's webcam is now available for viewing. Images from the webcam can be viewed at www.nps.gov/flfo/photosmultimedia/webcams.htm. The webcam will take a snapshot every 60 seconds, and is viewable 24 hours a day.
The webcam shows a meadow view, looking north from the visitor center. The meadow is within the one-mile Petrified Forest Walk. Crystal Peak is visible in the distance. Visitors can get a sense of the weather before visiting, and wildlife can potentially be seen.
The webcam is available due to cooperation with multiple agencies. Glacier National Park provided the camera and support. LVW Electronics of Colorado Springs installed the camera and weatherproof housing. National Park Service Intermountain Region Information Technology support staff and NPS Washington Office Information Technology support staff provided software installation support.
Links to more National Park Service webcams can be seen at https://www.nature.nps.gov/air/WebCams/