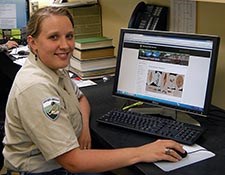 Hi! My name is Lindsey Yann and I was a 2013 paleontology intern at Florissant Fossil Beds National Monument. If you would like to learn more about the intern program, click
here
.
I worked on a multiyear Recreation Fee Park Revenue project entitled "Digitize collections to provide visitor accessibility and understanding of park resources." A requirement of visitor fee funded projects is that there is a direct connection to a greater visitor understanding of the monument. To fulfill the requirement, I focused on a complete overhaul of the paleontology section of this website. I interviewed researchers during the open house of the new visitor center, created the content for new pages, incorporated approximately 200 digital photographs of the monument's fossils, and updated the website using CMS – a Content Management System. In addition to my work on this website, I also created the content and a detailed outline for a video following a fossil from discovery and excavation to cataloging and research. Working closely with Herb Meyer (monument paleontologist), Jeff Wolin (lead interpretation ranger), and Post Modern Company, the video was filmed and is available
here
. It is also available in the visitor center.
All of this new information can be accessed using the navigation bar on the left hand side of this website. Click on the links to learn more about research, fossils, and geologic history of the Florissant Fossil Beds National Monument!
The Geological Society of America®'s GeoCorps America™program and the Florissant Fossil Beds National Monument paleontology division provided me with a wonderful opportunity to learn more about the Eocene fossils while reaching out to you, a visitor of the monument.