Intern Program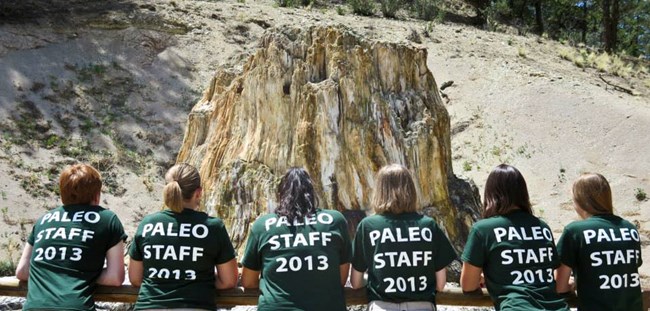 Florissant Fossil Beds National Monument has hosted approximately 50 paleontology interns from 1997 to 2017, and the number is still growing. Both undergraduate and graduate students spend the summer working on various projects such the inventory and monitoring of fossil sites, digitization of collections, paleontology outreach and curriculum design, excavations, assisting with preparing materials for publication, archives management, creating plans and an application for a new Geopark – Gold Belt Scenic Byway, and research.
These interns have been sponsored by multiple organizations including the National Park Service Geologists in the Parks, the Association of Women Geoscientists, the Friends of the Florissant Fossil Beds, and the Geological Society of America. In recent years, most of the interns have been accepted through the Geological Society of America's GeoCorps America Program.
Would you like to apply to be a paleontology intern at Florissant Fossil Beds National Monument?
Find out about it here
Not a member of the Geological Society of America? Join GSA now!
Recent Projects
Additional information about some of the more recent projects can be found below.
Research
Research projects developed in collaboration with universities include:


1) Developing a technique for the stabilization of the fragile shale
2) Stabilization of the fossil tree stumps
3) Characterizing the preservation of the insect fossils
4) Searching for small mammals in the Florissant Formation
5) Climate change research using mollusks
6) Identifying sources of volcanic ash in the Florissant Formation
7) Climate comparisons with other fossiliferous formations

Inventory and Monitoring
The inventory and monitoring program has been designated as a summer intern project, which utilizes GPS, digital photography, and complex databases to record and store the location, preservation, and disturbance of each fossil site.
The fossil resources within the monument range from giant redwood stumps preserved in volcanic mudflows to delicate plants and insects embedded within paper-thin shale. All of the fossils, both large and small, are very fragile, and this creates the need for monitoring of each known site.
A map and a set of photographs are compiled for each of the approximately 72 sites within the monument for future comparisons of any changes in disturbances, either natural or human-induced, that are taking place over time. The monitoring data are entered into a secure internal database that stores both current and past observations. Monitoring of vulnerable or fragile sites is conducted yearly, and sites that are less vulnerable may be monitored on a two or three year rotation.

Excavations
One of the most commonly asked questions at Florissant is, "Are you still 'digging' for fossils?" It is part of the park's mission to conduct excavations for research as long as they are done in a sustainable manner.
Excavations are conducted by the park paleontologist and staff and are small in scale and may involve one or two people and lasting for one or two days.
The actual process of excavating for fossils is slow and meticulous. An area is selected to be excavated and notes are taken on the locality, the rock type, and the preservation. Rocks are collected and then brought back to the lab and are split to search for fossils of insects, leaves, and fish. Mammals are rare and very small so they are typically found by sifting dirt through a screen.

Collections
After the fossils have been collected in the field they become part of the monument's paleontological collection. Some of the recent intern projects included moving, organizing, and photographing collections.
Interns helped prepare for moving collections to the visitor center by packing and padding all the fossils drawer by drawer. Interns had the responsibility of nesting each fossil with foam and padding each drawer with foam and bubble wrap.
Once the collection was moved, the process of organizing the collection began. To make the collections easy to use the fossils are arranged startigraphically, or based on their position in the rock record, and are grouped by plants and insects. This project also required that the placement of each fossil be documented as it was unpacked so that it can be easily found for future research.
Another project is the digitization of the monuments collection. This project is funded by visitor's fees and is being used to photograph all of the fossils in the collection. As this project is funded by the visitors the images are being made available to you and all other visitors and can be accessed here.

Paleontology Outreach and Curriculum Design
Interns have also helped to develop outreach and educational tools that can be used in the classroom at all education levels which a stronger focus on high school and introductory college courses. Some of the final products have included a paleontology curriculum for high school students and a paleontology curriculum for college students.
Other outreach projects have included creating a website for the monument's sister site, the Piedra Chamana Petrified Forest located in the Andean Mountains, near Sexi, Peru. Another project focused on updating the paleontology program section on this website and creating video clips that follow a fossil from discovery to collections, which can be found here.
Last updated: February 10, 2017