Things To Do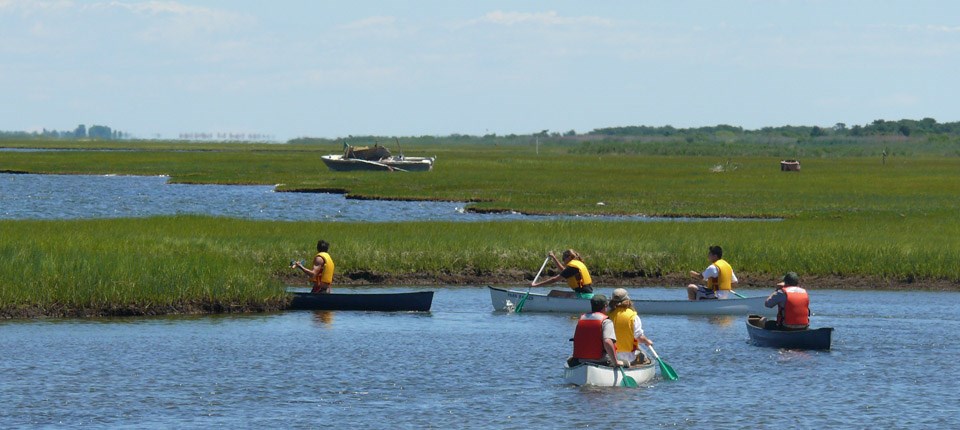 Fire Island is a fascinating place that has provided fond memories for generations of people who have lived, worked, or played on the island.
If You Have One DayEnjoy sightseeing, hiking, and wildlife-viewing on nature trails at sites on Fire Island or on the grounds of William Floyd Estate. Fire Island Lighthouse, Sailors Haven/Sunken Forest, Watch Hill, Talisman, and Wilderness are National Park Service sites located on the barrier island. Private boats or passenger ferries are required to access Sailors Haven/Sunken Forest, Watch Hill, and Talisman seasonal, midisland sites. The Fire Island Lighthouse, Wilderness, and William Floyd Estate are accessible year-round by car. Be sure to check directions, hours of operation, and the calendar of events for each site prior to planning your trip!

Canoeing, boating, and fishing are a few of the warm weather water-based activities you may enjoy in Great South Bay and along Fire Island's salt marshes between Watch Hill, and Smith Point. Lifeguraded beaches and ranger-guided programs are also offered at sites on Fire Island, although schedules vary by season.
With More TimeA small family tent campground is located at Watch Hill beyond the marina and behind the dunes. It is available from mid-May through mid-October. Wilderness or "backcountry" camping in the Otis Pike Fire Island High Dune Wilderness is available all year. Learn more about camping on Fire Island.

The marinas at Watch Hill and Sailors Haven are typically open from mid-May to mid-October. These facilities are operated by a National Park Service concessioner.

Plan for Travel TimeLogistics on Fire Island can be quite complicated, so be sure to review ferry schedules in advance. Ferries run regularly to the island in the summer months but are limited in the off-season. A water taxi provides service between island communities and park locations. See Directions for park access information.