Birdwatching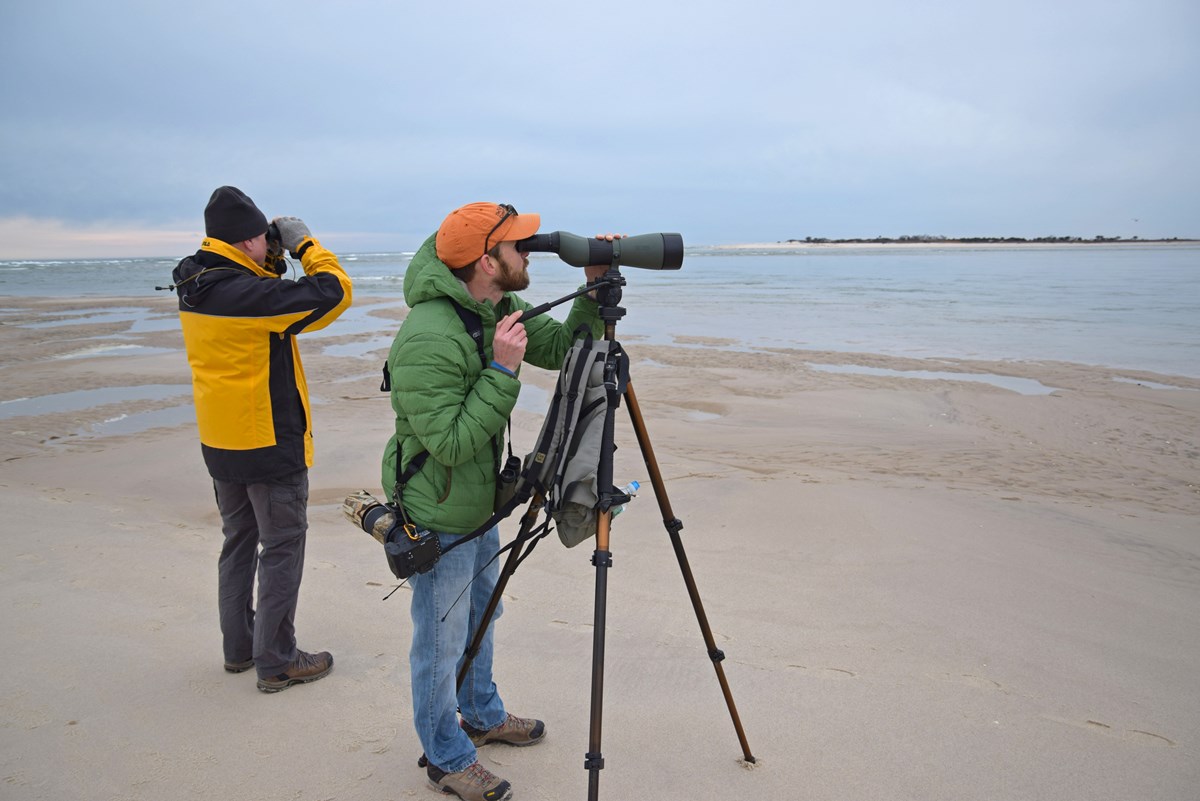 Fire Island is a birding hotspot in New York, especially during spring and fall migration. The diversity of barrier island habitats and its location along the Atlantic Flyway make Fire Island National Seashore a great place to find both resident and migratory birds. More than one-third of all North American species have been recorded here, so bring your binoculars on your next visit.
Birdwatching Locations (From east to west):
William Floyd Estate
The
William Floyd Estate
borders Moriches Bay, thereby making it a very exciting place to find many different species of birds. The 613 acres has a variety of habitats such as fields, woods, and creeks that flow into the bay. It's vast salt marshes are a haven for waterfowl, wading birds, and over 20 species of shorebirds seasonally. It is a magnet for migrating neotropical species such as warblers, vireos, and thrush in the spring and fall. Year round resident bird species that can be seen are red tailed hawks, wild turkey, eastern bluebirds, and a variety of woodpeckers and small birds such as black-capped chickadees and white-breasted nuthatch.
Wilderness
The high dunes and wide beaches found along the seven-mile stretch of federally-designated
wilderness on Fire Island National Seashore
provide great opportunities to see shorebirds year-round. Sanderlings are likely the most common shorebird here, frequently seen in small flocks, scurrying to and fro by the waves. A lone ruddy turnstone or semipalmated sandpiper – shorebirds that are found in greater abundance along Fire Island's bay beaches and marshes – will sometimes join these sanderling flocks. The federally threatened and New York State endangered piping plover can also be observed in wilderness
.
Watch Hill
Fire Island's most expansive salt marsh is found at
Watch Hill
. This tidal marsh is a good place to look for herons and egrets, and red-winged blackbirds. At low tide during the warmer months, these long-legged wading birds can sometimes be spotted in the ponds which dot the salt marsh.
Sailors Haven
The Sunken Forest, a mature maritime holly forest at Sailors Haven, provides dense cover for migrating warblers. Other birds, such as the Eastern towhee, can be heard from late spring through the summer rustling through the leaves on the forest floor in search of its insect prey.
Fire Island Lighthouse
In September and October, the raptor-viewing platform just east of Robert Moses State Parking Field 5, near the Fire Island Lighthouse, is a fantastic place to watch the hawks on fall migration. Raptors tend to fly in a pattern across the island near the raptor-viewing platform. In winter, waterfowl can also be spotted in the Great South Bay.
Learn More and Become a Citizen Scientist Birder
From the Christmas Bird Count and Great Backyard Bird Count to tracking your observations through eBird, there are numerous opportunities to turn bird watching into valuable citizen science records. The National Park Service offers bird watching programs for beginners and children, and leads the CBC and GBBC each year.
If Fire Island National Seashore is in your "backyard," or you have come for a visit, you can provide your observations during a
park ranger-led bird count or program
or through
eBird
, an online checklist program.
Last updated: October 23, 2020