USGS Continues Coastal Research Off Fire Island during Winter 2012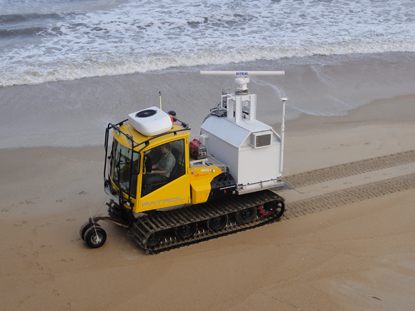 News Release Date:
January 24, 2012
Contact: Paula Valentine, 631-687-4759
Patchogue, New York-Fire Island National Seashore is again hosting scientists from the U. S. Geological Survey (USGS), along with research staff from the U. S. Army Corps of Engineers (USACE), to study coastal processes on the beach and off the shore of Fire Island. A week of survey work is expected to begin on January 30, 2012. Another survey is expected to take place after a large storm, or Nor'easter, later in the winter or early spring of 2012. This work is a follow-up to a cooperative research project started in early summer 2011. (See more.)
A program, "Fire Island's Dynamic Shoreline: Coastal Erosion Issues Studied," will be conducted by project investigators, Dr. Cheryl Hapke of USGS and Dr. Jesse McNich of USACE, at 1:00 p.m. on Saturday, January 28, 2012, at the Fire Island Lighthouse Fresnel Lens Building. There is no charge for the program, and free parking is available at Robert Moses State Park Field #5.
According to Dr. Hapke, "This program will provide insight into some of the recent and on-going studies conducted by federal agencies along the south shore of Long Island. These studies will help scientists and land managers  better understand how the beaches are changing and what is causing that change."
"The reports generated from this research," stated Fire Island National Seashore Superintendent Chris Soller, "are valuable tools for land managers and stakeholders to consider when maintaining coastal resources, especially in the face of sea level rise and other global climate change impacts. Studies of the ocean bottom and sand movement along the shoreline help to inform management decisions along a dynamic barrier island coastline, like Fire Island."
The goals of this year's investigations are to:
Explore the connections between near-shore and offshore bathymetry and shoreline change throughout the year;

Examine how the inner shelf and nearshore features may influence the shape of the dunes and beach and cross shore sediment transport

; and
Monitor how dredging of offshore regions may impact the shoreline.
Using a beach survey vehicle, data on beach topography and the nearshore seabed will be collected. In addition, a series of underwater instruments will be placed on the seabed offshore of Fire Island to record waves and currents. "The locations selected for the deployment of these instruments," stated Hapke, "are based on high-resolution bathymetry data generated from last summer's study off Fire Island." During the time the instruments are in the water, researchers will slowly drive the entire length of Fire Island's beach face in a specially equipped 4WD vehicle containing USACE-designed equipment that collects topographic and bathymetric data, measuring changes to the beach and dunes and the sea-bottom immediately off-shore. The land-based survey will extend 32 miles from Democrat Point, the westernmost end of Fire Island in Robert Moses State Park, to the eastern end of Fire Island in Smith Point County Park. The majority of the near-shore measurements will be concentrated from the Fire Island Lighthouse to Watch Hill. This study area includes the beach in front of the seventeen communities within the boundaries of Fire Island National Seashore.
Hapke has conducted previous shoreline studies in Fire Island National Seashore; her findings have been presented at the park's science conferences in 2007 and 2010, and she is expected to participate in the next Biennial Science Conference in April 2012. (See www.nps.gov/fiis/scienceconference.htm) She is also the lead investigator of a USGS report released in February 2011 that summarizes the assessment of coastal change over the past 150 years for beaches in the New England and Mid-Atlantic regions.
The report, titled "National Assessment of Shoreline Change: Historical Shoreline Change along the New England and Mid-Atlantic Coasts," is the fifth report produced as part of the USGS's National Assessment of Shoreline Change project. (https://pubs.usgs.gov/of/2010/1118/)
"There is increasing need for this kind of comprehensive assessment in all coastal environments to guide managed response to sea-level rise," said Hapke of the new report. "It is very difficult to predict what may happen in the future without a solid understanding of what happened in the past." This analysis of past and present trends of shoreline movement is designed to allow for future repeatable analyses of shoreline movement, coastal erosion, and land loss. The results of the study provide a baseline for coastal change information that can be used to inform a wide variety of coastal management decisions.
Additional reports regarding USGS investigations in the offshore New York Region, including "Coastal Vulnerability Assessment of Fire Island National Seashore to Sea-Level Rise," seafloor sediment distribution, and other studies off Fire Island, can be found at woodshole.er.usgs.gov/project-pages/newyork/.
More information about the USACE Coastal Lidar and Radar Imaging System (CLARIS) system is also available on-line.
For more information about this research project on Fire Island, contact Michael Bilecki, Fire Island National Seashore's Chief of Resources Management, at 631-687-4760. Dr. Hapke of USGS may be contacted at 727-803-8747 x 3068.
For more information about Fire Island National Seashore, visit www.nps.gov/fiis.
# # #
Last updated: February 26, 2015