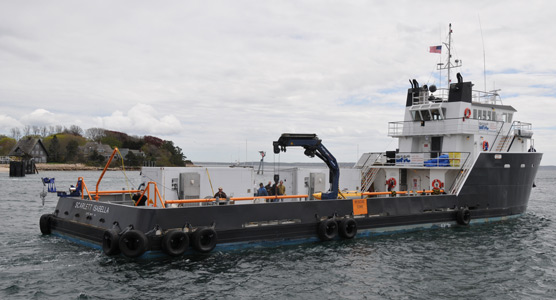 News Release Date:
May 12, 2011
Contact: Paula Valentine
Patchogue, New York—From mid-May through early June 2011, Fire Island National Seashore is hosting scientists from the U. S. Geological Survey (USGS) and Coastal Carolina University as they conduct investigations in the coastal zone of Fire Island. The new data will include near-shore and inner shelf bathymetry and topography of the island and offshore sediment thickness. The data will be used to study changes in the beach and to examine sediment deposits (sand bars and ridges) below the surface of the Atlantic Ocean off Fire Island. Recent analyses of long-term shoreline change and existing bathymetric and sediment distribution data suggest that features in the offshore may affect the behavior of the beach—with distinct zones of erosion and accretion—that may be related to the spacing of the offshore ridge and trough system.
"We look forward to the reports generated from highly technical research such as this," stated FIIS Superintendent Chris Soller. "A lot of resources—both federal and private—are invested in the maintenance of coastal resources. Studies of the ocean bottom and how sand moves along the shoreline are critical to our holistic understanding of management actions along a dynamic barrier island coastline, like Fire Island."
According to Dr. Cheryl Hapke of USGS, one of the lead investigators for this project, the goals of these investigations are to:
Identify regions of the seabed adjacent to the beach where sediment transport is active;
Study the dynamics of sediment transport off Fire Island;
Determine how wave refraction from the system of sediment shoals off western Fire Island affects sediment transport, and
Investigate how the offshore sediment shoals affect the long- and short-term behavior of the beach and dune system.
Using a 120-foot long research vessel, a 24-foot motorboat, an 18-foot skiff and a 14-foot rigid-hull inflatable, the team will collect high resolution bathymetric data in the area of Fire Island from the wave breaking depths to approximately 10 km offshore. In addition to the vessel-based surveys, the USGS will also fly an airborne laser system at least two days during the survey period. The system, called EAARL (Experimental Advanced Airborne Research Lidar), is a light detection and ranging system that will collect subaerial topography and shallow bathymetry. These operations are scheduled to occur between May 18 and June 9.
Dr. Hapke stated that the high-resolution bathymetry data generated from this study will be used to select locations for the deployment of underwater instruments during the winter of 2012 and perhaps in 2013.
Hapke has conducted previous shoreline studies in Fire Island National Seashore; her findings have been presented at the park's science conferences in 2007 and 2010. (See www.nps.gov/fiis/scienceconference.htm) She is also the lead investigator of a USGS report released in February 2011 that summarizes the assessment of coastal change over the past 150 years for beaches in the New England and Mid-Atlantic regions. According to this report, 68 percent of the shoreline is eroding along the New England and Mid-Atlantic coasts of the United States.
The report, titled "National Assessment of Shoreline Change: Historical Shoreline Change along the New England and Mid-Atlantic Coasts," is the fifth report produced as part of the USGS's National Assessment of Shoreline Change project. (https://pubs.usgs.gov/of/2010/1118/) Additional reports outlining USGS investigations in the offshore New York Region including Fire Island can be found at woodshole.er.usgs.gov/project-pages/newyork/.
"There is increasing need for this kind of comprehensive assessment in all coastal environments to guide managed response to sea-level rise," said Hapke of the new report. "It is very difficult to predict what may happen in the future without a solid understanding of what has happened in the past." This analysis of past and present trends of shoreline movement is designed to allow for future repeatable analyses of shoreline movement, coastal erosion, and land loss. The results of the study provide a baseline for coastal change information that can be used to inform a wide variety of coastal management decisions.
For more information about this research project on Fire Island, contact Michael Bilecki, Fire Island National Seashore's chief of resources management, at 631-687-4760. Dr. Hapke of USGS in Woods Hole, Massachusetts, may be contacted at 508-457-2297.
For more information about Fire Island National Seashore, visit the park's web site at www.nps.gov/fiis.
# # #