Special Programs this Columbus Day Weekend at William Floyd Estate and on Fire Island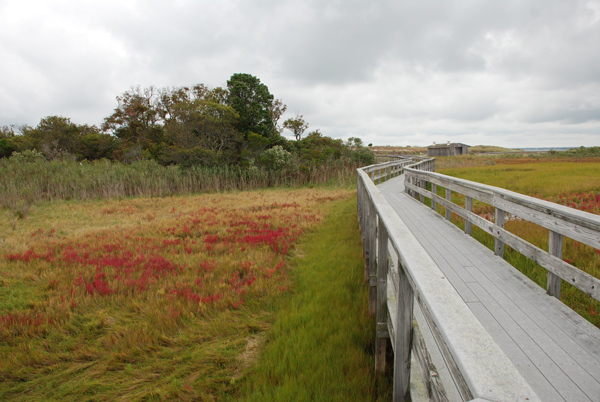 News Release Date:
October 3, 2012
Contact: Paula Valentine, 631-687-4759
The season is winding down with the closure of some Fire Island National Seashore facilities and the end of this year's ferry service to Watch Hill and Sailors Haven after Columbus Day weekend. However, many programs and activities are still offered throughout the fall, and some programs are available all year. Check "What's Happening this Week" or download a copy of the October 2012 Special Programs listing.
Ferry service from Patchogue to Watch Hill and from Sayville to Sailors Haven will end for the season on Monday, October 8, although charter service may be available through the month. "This is the last weekend to stop by our visitor centers at these two sites," said Chief of Interpretation Kathy Krause, "or to join us for a ranger-guided tour of the Watch Hill Salt Marsh or the Sunken Forest Nature Trail, until we reopen next spring. There's still a lot to do this fall, however, and it's such a beautiful time to explore Fire Island."
The William Floyd Estate remains open on Friday, Saturday and Sunday and holiday Mondays through November 12. Grounds are open 9:00 a.m. to 5:00 p.m., with guided house tours every half-hour from 10:00 a.m. to 4:00 p.m. Naturalist MaryLaura Lamont is leading a 2-hour stroll, "Wildflowers of Autumn," around the Old Mastic Fields this Saturday, October 6, at 10:00 a.m. "We'll see a number of fall wildflowers in bloom," said Lamont, "and even the native grasses provide a wash of color to the landscape." Even on a botanical tour, you can expect to see signs of wildlife and learn about the fascinating cultural landscape at the birthplace and home of general Floyd, one of New York's four signers of the Declaration of Independence. Dress for the weather, and wear tick repellent! Additional walks and special tours are offered throughout the year. For more information, call the William Floyd Estate at 631-399-2030.
The Fire Island Lighthouse remains open for the season, with a number of tours and activities planned. This weekend, join a free 1½-hour ranger-guided walk, "Step Back in Time," on Sunday, October 7, 2:00 p.m. On the following weekend, the Fire Island Lighthouse Preservation Society is offering its annual Lantern Light Tour on Saturday, October 13 from 7:00 - 9:00 p.m.($10/person; reservations required: 631-661-4876). "Telling History: An Afternoon of Storytelling" will be conducted on Sunday, October 14, at 2:00 p.m. inside the Fresnel Lens Building.
We're still taking reservations for the Educators Workshop: Beach Dynamics 101, which will be held on Saturday, October 13 at the Wilderness Visitor Center. This is a free program, running from 10:00 a.m. to 2:00 p.m., but registration is required: 631-687-4780.
The National Park Service is still selling 2012 Sportsman's Recreational Driving permits at the Wilderness Visitor Center, to provide access to a 6-mile portion of the beach for fishing between September 15 and December 31. During this time, the office is staffed from 9:00 a.m. to 4:00 p.m. daily, but will be closed on Thanksgiving and Christmas days. For more information, call 631-281-3010.
While it's late in the season and temperatures are dropping, you should still take precautions to avoid ticks and mosquitoes when you're outdoors on Long Island or Fire Island. One sample of mosquitoes collected near Watch Hill on September 19, 2012 tested positive for West Nile virus. Properly prepared for the weather and the conditions, however, most people can enjoy Fire Island National Seashore throughout the year.
Last updated: February 26, 2015