Sportsman's Vehicle Permit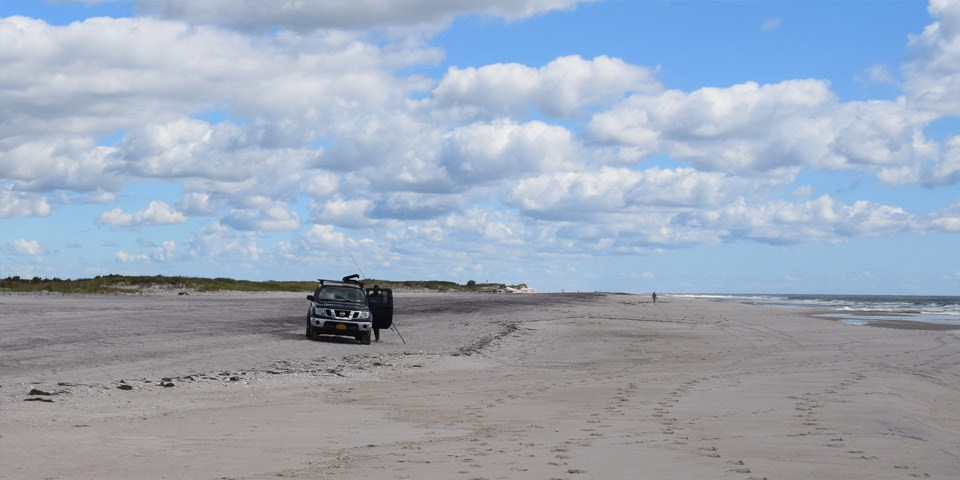 Where can I get a recreational driving permit?
With a Fire Island National Seashore Recreational Driving Permit ($50/vehicle) off-road (4x4) recreational vehicles are permitted to drive at certain times on designated portions of Fire Island National Seashore's beach as a means of access for fishing or hunting. Recreational driving permits may be purchased with a $50 check or money order, vehicle registration, driver's license, and marine fishing registry at the Wilderness Visitor Center.

Smith Point County Park and Robert Moses State Park, located adjacent to National Park Service sites on Fire Island, have separate recreational use permits.
Where is there recreational driving on Fire Island?
Sportsman's recreational driving is restricted to the beach along the Atlantic Ocean on the south shore of Fire Island, 1.5 miles west of the Wilderness Visitor Center (adjacent Smith Point) between the water's edge and 20 feet seaward of the beach grass. Vehicles may not cross dunes, damage vegetation, or enter the designated wilderness area.
Permits for recreational driving may be purchased at the Otis Pike Fire Island Wilderness Visitor Center on or after September 1, for use between September 15 and December 31.
The beach may be closed to driving at any time due to high water or other adverse conditions on the beach.
For the latest information please call the Wilderness Visitor Center at 631-281-3010.
To Obtain a Permit

The current rate for a Sportsman's Vehicle Permit is $50/year (check or money order only, made payable to "National Park Service").
You must possess a valid state drivers license and your properly-equipped four-wheel drive vehicle must have a current state registration.
A no-fee New York State recreational marine (saltwater) fishing registry is required for fishing.
New York State and federal permits are required for waterfowl hunting.
When you purchase your permit, you are also required to watch a 5-minute driving orientation video, where you'll be advised of the "rules of the road" and other safety and resource protection messages.
Last updated: October 28, 2016