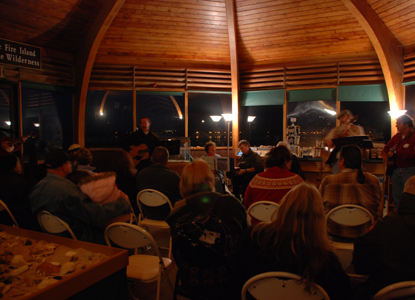 News Release Date:
August 13, 2012
Contact: Paula Valentine, 631-687-4759
With the end of summer getting closer every week, you may want to mark your calendar and participate in one of Fire Island National Seashore's broadly diverse programs. This month, there are special talks and activities at each of the park's visitor centers, from the William Floyd Estate to the Fire Island Wilderness, Sailors Haven and the Fire Island Lighthouse.
Highlights this Saturday, August 18, include decoy carving on the porch at the William Floyd Estate from 11:00 a.m. to 4:00 p.m. The Summer Gunner: The Art and Lore of Traditional Decoy Carving is presented by local carver and historian Jamie Reason, who will share his knowledge of the history of waterfowl hunting on Long Island, and perhaps impress you with his mastery of traditional hand-carving skills. Both the program and parking are always free at the William Floyd Estate, where you may also tour the 25-room Old Mastic House. (Call 631-399-2030 for more information.)
At the Fire Island Lighthouse all weekend, August 18 & 19, you may join the Great South Bay Amateur Radio Club (GSBARC) to learn about a common means of communications in the past that remains an invaluable tool even today. During Lighthouse/Lightship Weekend, the GSBARC, (W2GSB/LH), will be operating from the historic Fire Island Lighthouse to relive history as the radio operators talk to other lighthouses around the world, using radios and wire antennas just like Marconi did in 1901.
A new 1½-hour ranger-guided tour, Step Back in Time, a Maritime History Walk Around the Fire Island Light Station, is offered every Saturday at 4:00 p.m. and Sunday at 10:30 a.m. through September 1, 2012.
There's a special treat for boaters at Sailors Haven Marina this Saturday night, but with a little bit of logistical planning, anyone can enjoy this free program. Inside the Sailors Haven Visitor Center, the park's science communications park ranger will present Science of the Sunken Forest on Saturday, August 18 from 7:00 - 8:00 p.m.
With its canopy of 250- to 300-year-old American hollies in a globally rare maritime holly forest, the Sunken Forest is considered by many to be the "crown jewel" of Fire Island. Fire Island is made up of different natural systems that function together as a whole. It takes a team of specialists working with park staff to better understand each of those systems and monitor the island's health. Research has been conducted in the Sunken Forest for decades, and has helped guide the National Park Service in protecting it for future generations. Geologists, for example, study the way the shoreline is shaped by the wind and waves; forest ecologists are looking into the impact of herbivores on native plants; and, biologists monitor threatened and endangered species. Learn more about the science that helps the National Park Service protect Fire Island's crown jewel.
To reach the Sailors Haven Visitor Center, you may take the ferry from Sayville to Sailors Haven (last ferry leaves Sayville at 6:00 p.m. on Saturdays), but you'll need to return on the Cherry Grove to Sayville ferry (leaving Fire Island at 8:45 and 9:45 p.m.). Plan for a 1-mile walk between Sailors Haven and Cherry Grove. Water taxi service is available from most Fire Island communities with arrangements made in advance. (For more information, call 631-687-4766.)
Save the date for another special after-hours program at Sailors Haven/Sunken Forest:
An August 17 program at the Fire Island Wilderness Visitor Center has been cancelled, but mark your calendars. On Friday, September 28 from 7:00 - 9:00 p.m. , the local musical group Shipmates will again perform sea chanteys and ballads that reflect the rich maritime heritage of Fire Island. Bring your own acoustic instruments if you'd like to play along. The Wilderness Visitor Center is located at the southernmost end of the William Floyd Parkway, with parking available at the adjacent Smith Point County Park. (For more information, call 631-281-3010.)
These special program are in addition to a full slate of regular summer programs at Fire Island National Seashore. For more information:
Follow latest Fire Island National Seahore updates on Twitter and Facebook: