Slough Slog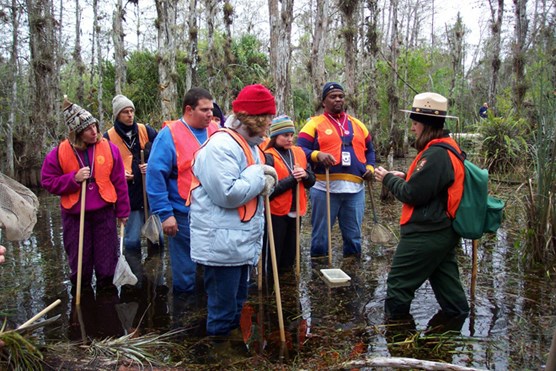 Ready for a Hands-on Experience of the River of Grass?
With only the sound of the wind and your footsteps, explore a side of the Everglades that most people never see by getting your feet wet in an off-trail hike.
Program Description
Slough slogging gives you a hands-on view of the River of Grass and reveals the hidden world of a cypress dome. Join a Ranger on one of our slough slogs for a guided walk into this fascinating environment. This program is limited to 12 participants. To sign up or for additional information, visit the Ernest F. Coe Visitor Center or call 305-242-7700. Participants must be 12 years of age or older. Slogs dates for this season can be found on our park calendar. Check Schedule of Events for additional information including specific dates and times. Reservations required.
All participants must bring the following:
Water
Sturdy close toed, lace-up shoes
Long Pants
The following items are suggested:
Sunscreen
Long sleeve shirt
Insect repellent
Binoculars
Snacks
Last updated: September 10, 2018