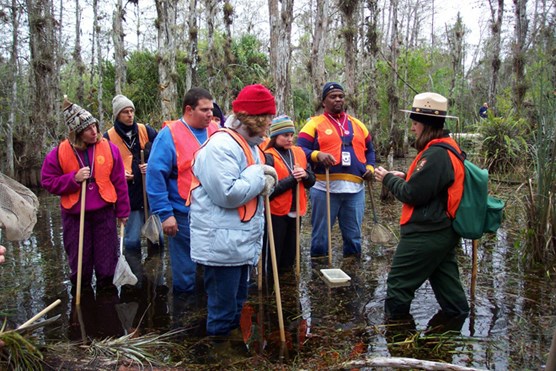 Ready for a hands-on experience of the River of Grass?
With only the sound of the wind and your footsteps, explore a side of the Everglades that most people never see by getting your feet wet in an off-trail hike. Slough slogging gives you a hands-on view of the River of Grass and reveals the hidden world of a cypress dome. Join a Ranger on one of our slough slogs for a guided walk into this fascinating environment.
All participants must bring the following:

- Water
- Sturdy close toed, lace-up shoes
- Long Pants

The following items are suggested:
- Sunscreen
- Long sleeve shirt
- Insect repellent
- Binoculars
- Snacks
*This program is limited to 12 participants. To sign up or for additional information, visit the Ernest F. Coe Visitor Center or call 305-242-7700. Participants must be 12 years of age or older.
Slogs dates for this season can be found on our park calendar. This program begins at 9:00 am. Reservations required.
Check Schedule of Events for additional information and specific dates.