Maps and Navigation
Everglades National Park consists of over 800 square miles of marine waters from the Ten Thousand Islands to Florida Bay. While operating a vessel in Park waters, please familiarize yourself with the park's system of boating management zones (e.g., pole and troll zones), channel and navigational markers, and recreational opportunities (e.g. campsites) to enhance your stewardship and enjoyment of the park.

Though not a substitute for the necessary in-depth park knowledge and experience required to properly navigate park waters, below are several maps the park has developed to help boaters understand how and where to travel by boat. Please visit this page periodically as the park will be updating and adding new maps.

In addition, we are working with GPS navigation companies to have park-specific information incorporated into their products and systems. View the drop-down menu below for the most current information.
Learn about zones, channels, and recreation facilities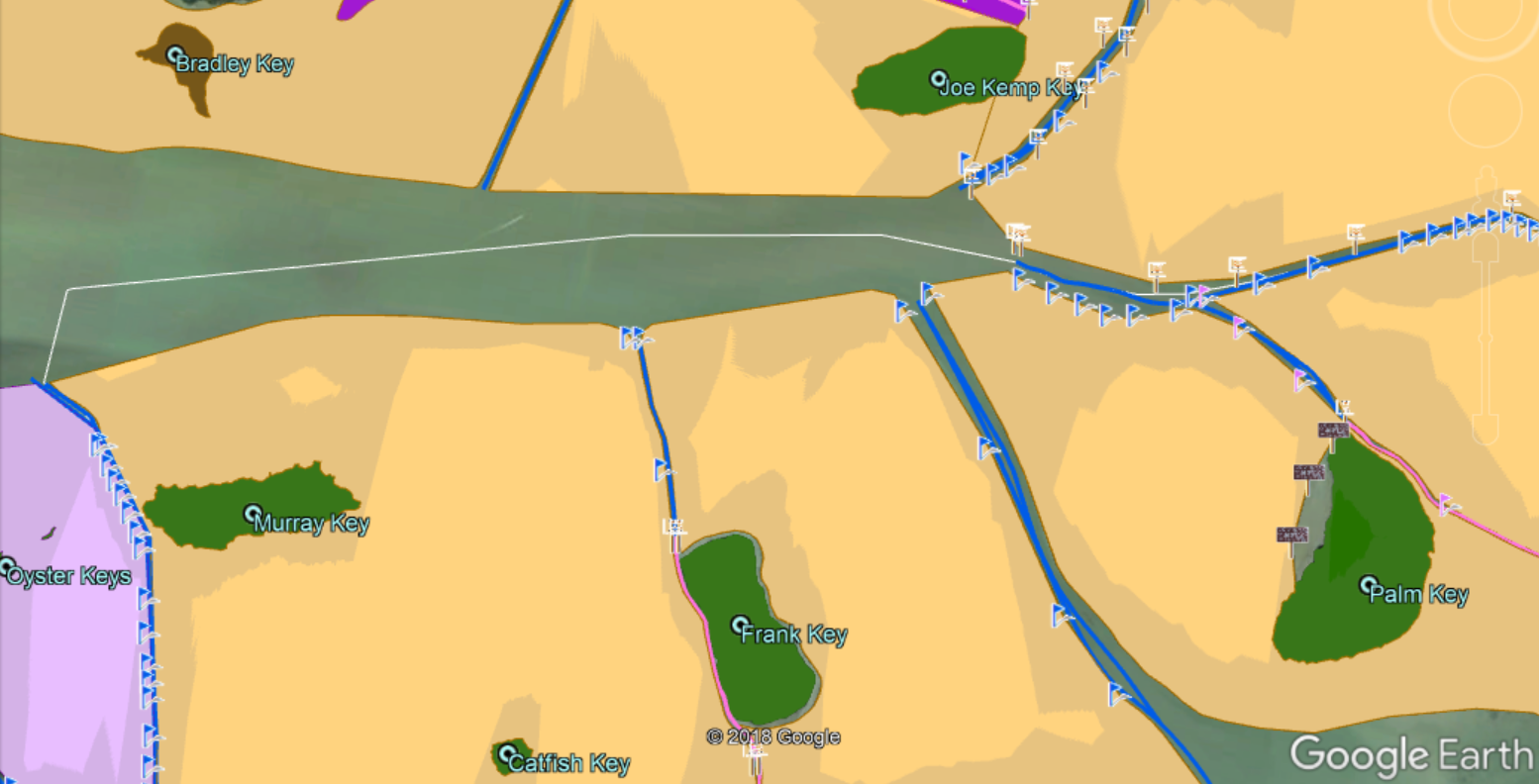 Download the Everglades National Park Boating Routes and Zones file with detailed Everglades National Park marine resource and visitor use information, including GPS locations for camping areas, management zones and boating channels. If you already have google earth or a similar application on your electronic device, explore different areas and features, and click on any of the features to get site-specific information. Otherwise, the google earth application (for either desktop or mobile device), or another application that reads kmz files, must be downloaded first.
Click the link above or the map below to open the Marine Management Zones and Corridors map in a separate tab.
Channel Marking Status in Florida Bay
Get the latest information on channel marker replacement work underway.
The above map provides current information on channel markers being replaced due to extensive damage from Hurricane Irma. Hovering over a channel shows which ones are completed and the access type (e.g., on-plane, idle-speed) and clicking on a completed one provides the channel name.
Boater Guide
The Boater Guide for Everglades National Park provides important information for boating in park waters from Everglades City to Florida Bay, including locations for camping sites, management zones and navigational channels. The guide was produced in 2019, and is a partnership project between Everglades National Park and the Florida Fish and Wildlife Conservation Commission. Paper copies of the guide are available to boaters entering the park at the main entrance station or at any of the park visitor centers.
Last updated: January 17, 2020