Long Pine Key Trails
Park staff are reviewing trail management techniques to develop strategies that won't affect this habitat so that we can reinstate trail management in the future. For now the trail remains open but you should be aware of terrain that should be traversed carefully and may have vegetation, branches, or other flora and fauna that could affect your hike.
Trail Length: Over 22 miles (35 km) of connecting trails

Wheelchair Accessible: No
Bicycles Allowed: Yes
Trail Description: Connecting trails through the Pinelands run 7 miles (11 km) west from the Long Pine Key campground to Pine Glades Lake along the main park road.
Directions to Trail: Many trails start around the Long Pine Key Campground, 7 miles (11 km) from the main park entrance/Ernest Coe Visitor Center. You may also park on road shoulders near the gates where trails meet paved roads.
Get detailed information and a map of the Long Pine Key Trails.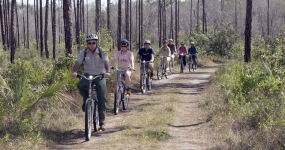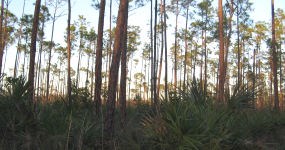 Last updated: January 17, 2022