Gulf Coast Ranger Guided Tours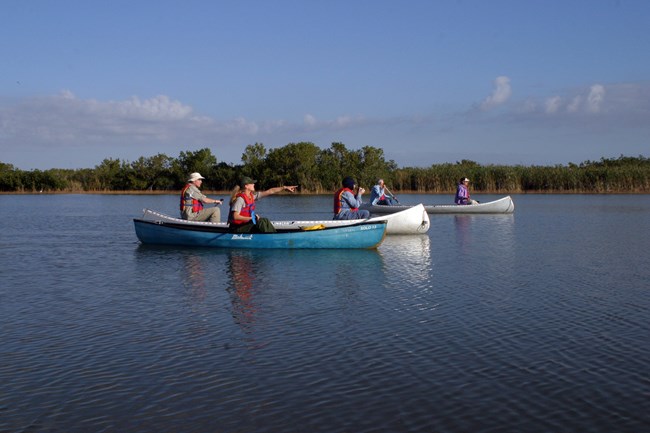 Gulf Coast District:
Join a ranger on a tour!
Gulf Coast offers many exciting ranger guided tours! These programs can vary greatly by season, and are subject to rescheduling or cancellation in the case of inclement weather.

Check our park calendar to see scheduled programs. You can also check the current status of programs by calling the Gulf Coast Visitor Center at (239) 695-3311 or the main park line at (305) 242-7700.


Program Descriptions
Below are summaries of all ranger-led programs available at Gulf Coast. Most programs are offered in the Dry Season (November - April). Programs are free unless otherwise noted.
A Beginner's Guide Saltwater Fishing

Are you new to fishing or just want to get a refresher? Join the rangers to learn about the saltwater fish of SW Florida, how to identify fish, how to cast, and how to throw a cast nest. Fun for all ages.

Calusa Days

Help Everglades National Park celebrate Calusa Days by learning about the 10,000 Islands! Come discover how these fascinating islands have shaped many lives. Expect engaging outdoor demonstrations, interesting activities, riveting storytelling, and thought provoking programs. Check the park calendar for this annual special event's times and dates.

Citizen Science Bird Count

Become a citizen scientist and help us conduct research by identifying and counting the birds and other animals we see while learning about the mangrove estuary on the boat tour. Through simple yet critical observations of bird species, numbers, and location, you will help us identify trends in populations. Watching these numbers over time will show whether populations are increasing, decreasing, or remaining stable. Program is included as part of the Ten Thousand Island Boat Tour ticket. (1.5 hours, fee charged for boat tour)

Everglades Highlight Ranger Talk

Join a ranger for a short talk on Everglades' ecology, history, and environmental issues. Wheelchair accessible. Meet park staff at the picnic pavilion. (20 Minutes)

Hands on History

How did anyone survive in the harsh mangrove ecosystem? Come by and see first-hand what techniques people sued to not only survive, but flourish, in this unforgiving landscape. Fun for all ages.

Nature Talk

Enjoy a guided walk while learning about the plants and animals of the Everglades. Meet park staff at the picnic pavilion. (Easy Walk - Shorter version of the Nature Walk. 30 Minutes)

Nature Walk

Learn about the plants and animals of the area. Meet park staff at the picnic pavilion. (Easy walk, 1 hour)

Timeless Travel Canoe Trips (Reservations Required)

Experienced paddlers can join a ranger to explore the Ten Thousand Islands to look at wildlife and mangroves and learn about the park's natural and cultural history. If tide and weather allow, trip may include a short walk on an island. Canoes are provided free of charge. Paddling skills and the ability to independently swim are necessary. Call the Gulf Coast Visitor Center for additional program details and to make a required advanced reservation. Reservations can be made starting 14 days in advance and by calling (239) 695-3311.

Tamiami Trail "Try"Athlon (Reservations Required)

The best part of the Everglades are off the main road! For those that want to do and see it all, join a ranger-led all day trip through some of the highlights of South Florida. The day will start at the Gulf Coast with a canoe trip in the mangrove estuary, followed by a hike through Big Cypress and then finish with a bike ride through the saw grass prairie at Shark Valley. Be prepared with plenty of water, food, and protection from the elements! Canoes will be provided free of charge. Bring your own bicycle or rent one at Shark Valley. Call (239) 695-3311 to make reservations up to 14 days in advance.
Last updated: May 29, 2019