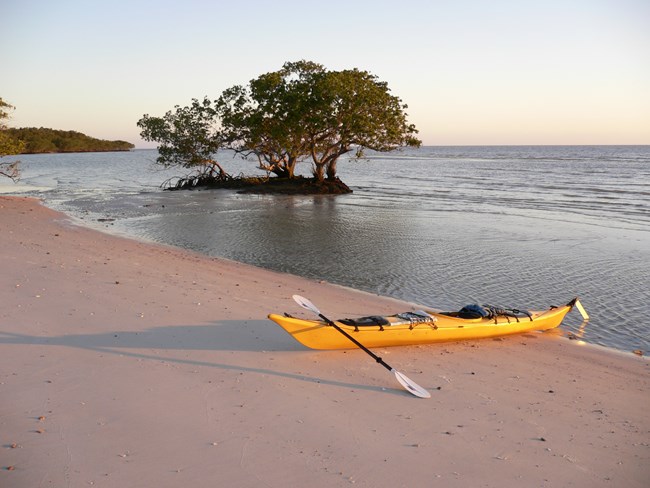 A Temporary Visitor Contact Station at Everglades National Park's Gulf Coast Entrance has opened in Everglades City!
Everglades National Park has opened a temporary visitor contact station at its Gulf Coast entrance in Everglades City!
Visitors should be prepared to bring their own water and be aware that the only restroom facilities on site are porta-potties and the restroom in the Boat Tours office. Concession services have partially resumed, including the daily Boat Tours out to the Ten Thousand Islands. Other concession services, including canoe rentals, are expected to resume soon. For any questions on boat tours, call Everglades National Park Boat Tours at (305) 695-0100.
The park's marine areas, including the Ten Thousand Islands are open. Visitors who want to camp in the backcountry must obtain a backcountry camping permit at the Gulf Coast visitor contact station, or at the Park's Flamingo Visitor Center on Florida Bay. Please visit the
backcountry camping
page for more information.
Boat Tours at Gulf Coast have Resumed Operation!
Boat tours of the Ten-Thousand Islands have resumed, departing from the Gulf Coast Visitor Center in Everglades City, FL. Tours operate every day, year-round.
Boat tour tickets can be purchased in person at the temporary concessioner location at 905 S. Copeland Ave. Everglades City, FL 34139, or
here.
Tours leave from the Gulf Coast Marina, across the street from the concessioner, where parking is available to the public.
Canoe rentals and the Mangrove Wilderness Tour are not available at this time.