AIRIE Nest Art Gallery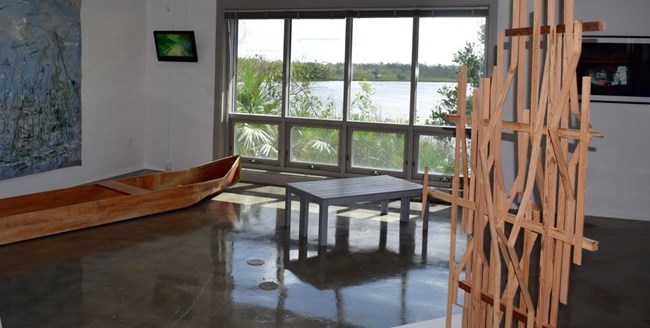 Visitors to the Ernest F. Coe Visitor Center can enjoy the AIRIE Nest, a new interdisciplinary art gallery presented by AIRIE, Inc (Artists in Residence in Everglades). Recent renovations, courtesy of a Knight Arts Challenge grant, emphasize the sublime view through two large picture windows, glistening polished concrete floors, and new white walls.

Programming features curated exhibitions featuring visual and performing art, art-science driven collaborations, works from the AIRIE permanent collection, and educational workshops.

Mission
The mission of the gallery is to educate, enhance and enrich the visitor's understanding and experience of Everglades National Park through quality Everglades' specific exhibits; foster a unique opportunity for the future generations of Park stewards to learn about the Everglades.

About Florida Bay
View the current exhibit, About Florida Bay from October 4, 2017 to January 15, 2018. Ninety-five percent of Florida Bay is located in Everglades National Park, and has undergone a series of ecological changes that have altered the ecosystem. About Florida Bay is a group exhibition in response to the unpredictability of this environmental dilemma, in which nine artists strive to capture the historical significance of this contested area while also featuring a sense of nostalgia and raising concerns about the future.

Ecology discussion and sculpting workshop Sunday October 22nd, 1 to 3 pm.

Archival photographs are on loan courtesy of the South Florida Collections Management Center.
Glen Simmons photographs, notebook and carving generously provided by Laura Ogden.
Works contained in this exhibition do not necessarily reflect the opinions of the National Park Service.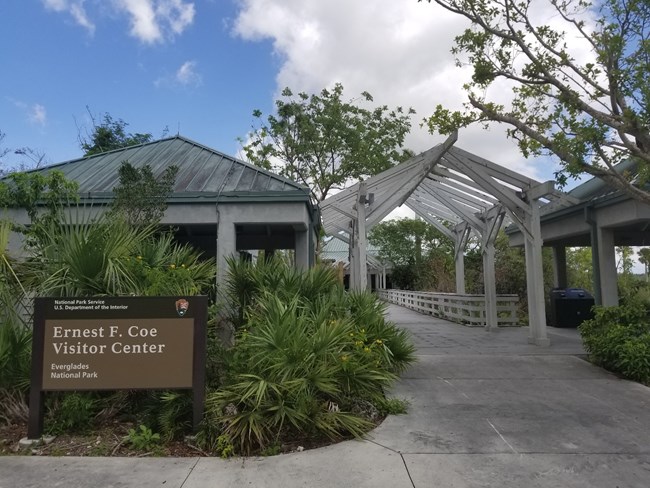 Directions: It is free to enter the Ernest F. Coe Visitor Center and view the exhibit. The center is open seven days a week from 9:00 a.m. to 5:00 p.m. The main entrance is located at 40001 State Road 9336, approximately 10 miles southwest of Florida City.
Last updated: October 17, 2017