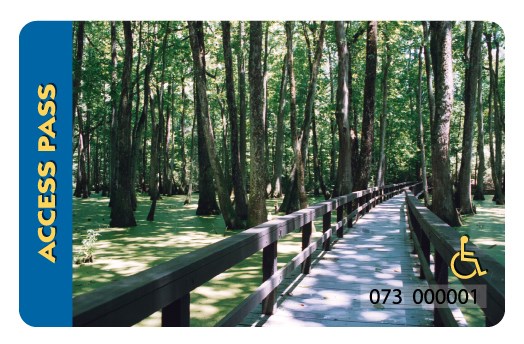 America the Beautiful - National Parks and Federal Recreational Lands Pass- Access Pass - Free

This is a lifetime pass for U.S. citizens or permanent residents with permanent disabilities.
Documentation is required to obtain the pass. Acceptable documentation includes: statement by a licensed physician; document issued by Federal agency such as the Veteran's Administration, Social Security Disability Income or Supplemental Security Income; or document issued by a State agency such as a vocational rehabilitation agency.
The pass provides access to, and use of, Federal recreation sites that charge an Entrance or Standard Amenity. The pass admits the pass holder and passengers in a non-commercial vehicle at per vehicle fee areas and pass holder + 3 adults, not to exceed 4 adults, at per person fee areas (children under 16 are admitted free).
The pass can only be obtained in person at the park. The pass is non-transferable and generally does NOT cover or reduce special recreation permit fees or fees charged by concessionaires.