Everglades by Car Audio Tour Podcast

Visitors are invited to explore the unique Everglades landscape with this audio tour. Thirteen narrated tracks lead listeners on a guided exploration down the main park road. With stops at all the park's main visitor areas, the tour is a great way to make the most of your Everglades experience!
To listen to this podcast on your computer, its best to download the free Windows Media Player. Otherwise, you may choose to right-click on each title, save each file, and play them through your favorite application. You can also access the podcast by downloading iTunes for free. Once iTunes is installed, you can subscribe to the podcast using the link to the right.
Track 1: Introduction to the Everglades (3:06), 2.9 MB

Track 2: Main Entrance to Royal Palm (5:44), 5.4 MB
Track 3: Royal Palm to Long Pine Key (4:31), 4.2 MB
Track 4: Long Pine Key to Pinelands (4:22), 4.1 MB
Track 5: Pinelands to Rock Reef Pass (6:56), 6.5 MB
Track 6: Rock Reef Pass to Pahayokee (3:24), 3.2 MB
Track 7: Pahayokee to Mahogany Hammock (4:32), 4.2 MB
Track 8: Mahogany Hammock to Paurotis Pond (4:27), 4.2 MB
Track 9: Paurotis Pond to West Lake (5:00), 4.7 MB
Track 10: West Lake to Flamingo (6:07), 5.7 MB
Track 11: Shark Valley Visitor Center (3:06), 2.9 MB
Track 12: Gulf Coast Visitor Center (3:17), 3.1 MB
Track 13: Everglades Restoration (4:01), 3.8 MB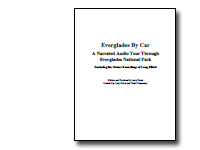 View the Transcript
PDF, 70 KB
Last updated: August 19, 2021