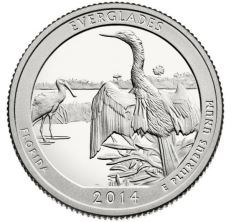 Commemorating the release of the 2014 Everglades National Park Quarter, the 25 th coin to be released in the United States Mint America the Beautiful Quarters®Program
Our event also celebrates the anniversary of December 6, 1947, when Congress set aside 1.5 million acres of land to be protected as Everglades National Park.
Harris Field Park Pavilion Located at the intersection of U.S. 1 and SW 312th Street/Campbell Drive Homestead, Florida December 4, 2014 - 10 a.m. (ET)
Coin exchange begins immediately following the quarter launch event one-roll ($10) minimum ″10-roll ($100) maximum.
The United States Mint will host a Coin Forum the evening before the event: Everglades National Park Visitor Center, 40001 State Road 9336, Homestead, Florida 33034 December 3, 2014 –6:30 –7:30 p.m.