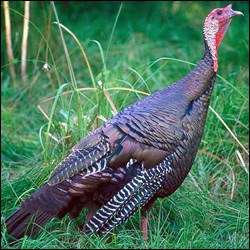 European explorers took Wild Turkeys from Mexico to Europe in the early 1500s. They were so successfully domesticated in Europe that English colonists brought them back with them when they settled on the Atlantic Coast. The domestic form has retained the white tail tip of the original Mexican subspecies, and that character can be used to distinguish wandering barnyard birds from Wild Turkeys, which have chestnut-brown tail tips.
The Wild Turkey was an important food animal to Native Americans, but the species was eliminated from much of its range by the early 1900s. Attempts to use game farm turkeys for reintroduction programs failed. In the 1940s, wild birds were caught and transported to new areas, where they quickly became established and flourished and even expanded their range into new territory. Such transplantations have been responsible for the spread of the Wild Turkey to 49 states. Alaska is the only state without Wild Turkeys.
The Florida Wild Turkey (Meleagris gallopavo osceola), an upland species that inhabits pinelands, cypress swamps, prairies, and hardwood hammocks in southern Florida, was extirpated from the Long Pine Key region of Everglades National Park in the early 1900s. Wild Turkey and six other upland species disappeared shortly after a dramatic reduction in area of the Atlantic rock ridge pinelands and extensive logging in the region. Hunting almost certainly contributed to the turkey's disappearance because of its establishment as a popular game bird. Efforts to reestablish a population of Wild Turkey in Everglades National Park were initiated in 2000.