SFNRC Deputy Director Carol Mitchell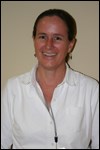 Dr. Carol Mitchell is currently the Deputy Director of the South Florida Natural Resources Center. She previously served the Center as the Chief of Biological Resources.
Prior to joining the Center, Dr. Mitchell worked for many years in Peru on environmental and conservation issues, participating in project evaluation for an integrated conservation and development program (for the World Wildlife Fund), formulating a scientific research plan for a protected areas complex (for Conservation International), leading the development of a proposal for integrated conservation and development programs in Peru (for Conservation International), and developing and leading a field course in tropical mammalogy. She also directed the environmental component of a field team from Conservation International that conducted scientific assessments of the impact of petroleum exploration on the ecosystem of the Candamo River Valley in a national park in Peru.
Education
B.S., Zoology, University of California
M.A., Biology, Princeton University
Ph.D., Ecology, Evolution and Behavior, Princeton University
Post-Doctoral Study and Research, Program for Studies in Tropical Conservation University of Florida
Last updated: May 7, 2015