SFNRC Director Robert Johnson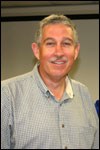 Robert Johnson has served as Director since October 1995, seeing the Center through the settlement of the Water Quality Lawsuit, through much of the planning and implementation of the Modified Water Deliveries Project, and through the development of the Comprehensive Everglades Restoration Plan.
Bob holds a B.S. in Geology from James Madison University and an M.S. in Environmental Sciences/Water Resources from the University of Virginia with additional graduate coursework completed at Florida International University. He started working for the Center in 1983 as a staff Hydrologist, later serving as Supervisory Hydrologist, and then as Branch Chief both for Physical Resources and for the former Ecosystem Analysis and Modeling branch.
He has represented the NPS on more than 20 advisory and technical committees charged with protecting and restoring the south Florida environment. These committees have spanned a broad range of topics from water quality protection and water supply planning, to watershed management, land use planning, and interdisciplinary science coordination. Bob has been called to serve as a technical expert on more than 25 litigation cases in federal and state courts and has represented NPS positions before Florida's Governor and Cabinet as well as other state and federal legislative bodies.
Bob has received numerous NPS awards including the Southeast Region Director's Award for Science in 1990 and in 1992, an NPS Honor Award for Superior Service in 1995, and two awards for Natural Resource Management in 2001: the Southeast Region Director's Award and the NPS Director's Award. Also, in 1997 he received the George Barley Award for sustained public service at the annual Everglades Coalition Conference.
Last updated: May 7, 2015