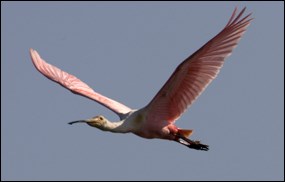 Sandy Key, 10 miles southwest of Flamingo, is a hub of spoonbill activity during winter. Every evening, a few hundred spoonbills roost in the islands' largest trees. At sunrise, the birds compete with the morning colors as they depart individually or in small flocks for the mainland.
One spoonbill travels northeast and passes directly over Eco Pond. "It's a flamingo!" a few people exclaim from the viewing platform. The bird continues its flight to Mud Lake, a few miles farther north, and settles down. It lowers its partially opened bill into the shallow, rust-colored water, and sweeps its head from side to side. Any small creatures, usually fish, which bump the edge of the bird's sensitive mandibles, are captured with a snap of the bill.
Later, ugly grey baby spoonbills, hunkered on their stinky nests, gulp regurgitated food from their parents' throats. Soon, they transform into replicas of the adults, becoming distinguished members of the Everglades community.