Burmese Pythons: Management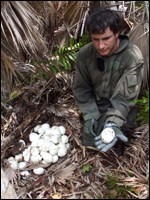 For over a decade, the National Park Service has worked closely with partners in South Florida to better understand the Burmese python problem and learn how to manage invasive snake species.

Some current efforts by NPS include:
Working with Florida Fish and Wildlife Commission (FWC) and other land-managing partners to create a statewide Burmese python Management Plan to better coordinate and prioritize management efforts

.

Working with U.S. Geological Survey (USGS) and other research partners to create a research synthesis (summary) for Burmese pythons to help researchers and managers understand all the research to date.

Supporting a multi-year research program in cooperation with the USGS that includes studies of ecological impacts, potential control tools, and potential monitoring tools. In the next year these partners will begin a study to determine whether pheromones (chemical secretions that affect social interactions) can be manipulated to attract pythons.

Closely coordinating with FWC to

expand the park's Python Removal Authorized Agent Program to allow FWC python removal contractors to remove pythons in the Park. This expansion will increase the number of skilled python searchers and provide valuable information for research on python control.

For more information on how to become an authorized agent, you can email e-mail us

.

Participating in the Everglades Cooperative Invasive Species Management Area (ECISMA), which is a forum to coordinate invasive-species research, management, and outreach efforts in the Everglades.
Some past efforts include:
NPS collaborated with many partners to evaluate potential python monitoring and control tools such as

Collaboration with UF and USGS in 2016 to evaluate use of environmental DNA to improve python detection;

Collaboration with Auburn University and the SFWMD in 2011 to evaluate detector dogs; and

Collaboration with USGS and the University of Florida (UF) in 2011 to evaluate food-baited traps.

NPS provided funding to the Nature Conservancy to expand the Python Patrol program from the Florida Keys to the rest of South Florida in 2010. FWC has since adopted this program, which provides training workshops for identifying and capturing large, invasive constrictor snakes

(

http://myfwc.com/wildlifehabitats/nonnatives/python/patrol/

).

NPS partnered with the University of Georgia (UGA) in maintaining and enhancing an Everglades invasive animal web and mobile reporting system for a 5-year period. As part of this endeavor, a

n

iPhone application

developed by UGA to report invasive animals was released.

NPS supported the expansion of FWC's

Nonnative Pet Amnesty Program

in 2010, including increasing the number of adoption events and establishing a statewide hotline

for reporting exotic species surrendering exotic pets (888-Ive-Got1).

The NPS collaborated with the South Florida Water Management District in 2010 to produce and distribute an invasive animal ID card deck to support further public education of invasive species and their negative impacts on natural areas.
Last updated: January 10, 2021