Featured Publication
Implementing the Dry Tortugas National Park Research Natural Area
Science Plan: The 3-Year Report
The National Park Service &
The Florida Fish and Wildlife Conservation Commission

In 2007, the National Park Service (NPS) and the Florida Fish and Wildlife Conservation Commission (FWC) developed a science plan, "Assessing the Conservation Efficacy of the Dry Tortugas National Park Research Natural Area," specifically to assess the effectiveness of a 46-square-mile Research Natural Area (RNA). The RNA is a no-take, no-anchoring marine reserve that was implemented to protect shallow water habitats and reef fish species in conjunction with two nearby existing marine reserves, the Tortugas Ecological Reserves, North and South.
This three-year interim report summarizes the progress of the science plan activities to date. Work has begun on all 6 major topic areas described in the science plan. A total of 18 projects are currently underway. A summary of progress on each of these projects is provided here.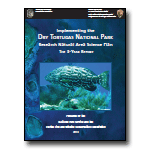 Download the Full Report Here
Hi Res (7.6 MB) | Lo Res (2.5 MB)
Questions and Comments
Questions regarding the Research Natural Area 3-Year Report can be directed to
report co-editor David Hallac.
Last updated: October 3, 2018