CESI Research Project 02-9
The Southern Everglades Integrated Monitoring
and Science Work Plan
Daniel Childers, Sharon Ewe, Tim Grahl, Damon N. Rondeau

Taylor Slough is a major artery of overland water flow in the southeastern Everglades. Historically, seasonal rains pulsing south along this corridor would feed the freshwater marshes, mangrove forests, and estuarine communities immediately downstream. Current restoration efforts endeavor to return greater flows of freshwater into the southern reaches of the Everglades.
This CESI-funded research and monitoring program helps assess how the increased movement of fresh water, nutrients, and organic matter will affect the freshwater and mangrove wetlands of the southern Everglades. The study not only examined water quality along Taylor Slough, but also sought to identify how the ecosystem responded in structure and function to management strategies.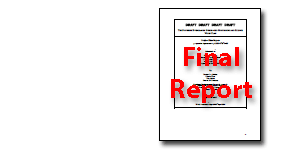 Final Report
(PDF, 680 KB)
Contact the principal investigator directly with questions about this study.
Childers, Ewe, Grahl, Rondeau, Water Quality, Monitoring, Taylor Slough, Dynamics, CESI, Critical Ecosystem Studies Initiative, Everglades
Last updated: October 3, 2018