CESI Monitoring Project 04-6
Development of a Comprehensive Fish and Macroinvertebrate Monitoring Program for Everglades National Park
Jeff Kline

Freshwater fish and invertebrates are an integral link in Everglades food webs, providing food for wading birds, larger fish, otters, alligators and other wildlife. However, canal construction, agriculture, and urban development have highly impacted the Everglades ecosystem. Unnatural water deliveries and lowered water levels have influenced the dynamics of the freshwater communities in Everglades National Park.
Much of what we know about the freshwater fishes of the southern Everglades has been learned from analysis of data collected from long-term monitoring sites in the marshes of Shark River and Taylor Sloughs. Information collected from these sites has been used to assess changes in water management. The goal of this CESI project is to develop a monitoring plan that complements existing external monitoring programs and fills gaps in monitoring needs.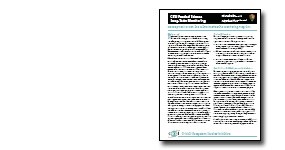 Fact Sheet
Coming Soon!
Literature Cited
Loftus, W.F., and A.M. Eklund. 1994. Long-term dynamics of an Everglades fish community. In S.M. Davis and J.C. Ogden (eds.), Everglades: The system and its Restoration. St. Lucie Press. Boca Raton, FL, pp. 461-483.
SFNRC. 2005. An assessment of the Interim Operation Plan. South Florida Natural Resources Center, Everglades National Park, Homestead, FL. Project Evaluation Report. SFNRC Technical Series 2005:2. 60 pp.
Trexler, J.C., W.F. Loftus, and S. Perry. 2005. Disturbance frequency and community structure in a twenty-five year intervention study. Oecologia 145:140-152.
Contact the principal investigator directly with questions about this study.
Last updated: April 14, 2015