CESI Assessment Project 06-2
Synthesis of Existing Data on Aquatic Communities in Everglades National Park in a Framework for Ecosystem Assessment and Evaluation
Joel Trexler

Small fish live throughout the freshwater areas of the Everglades and therefore provide an ideal indicator of desirable system-wide seasonal marsh conditions. The aim of this project was to develop a protocol for evaluating the potential impacts of alternative hydrologic management plans on remote areas of the Everglades using a long-term database of aquatic communities.

This project also closely examined the reliability of modeled hydrologic conditions as expressed by the existing interagency hydrologic models and hydrologic monitoring data using Everglades Depth Estimation Network (EDEN), an interagency database managed by the U.S. Geological Survey. The results of these analyses improved interpretation of ecological models of fish communities dependent on field data collection. To provide assurance that the aquatic fauna databases are managed to a high quality of detail, this project also designed a quality control protocol for the database.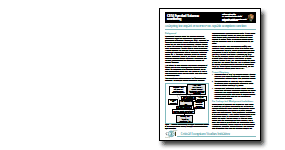 Project Fact Sheet
(PDF, 500 KB)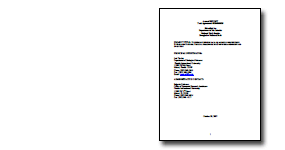 Final Report
(PDF, 1.4 MB)
Annual Reports
2007 (PDF, 225 KB)
Doren, R.F., J.C. Trexler, A.D. Gottlieb, and M. Harwell. 2009. Ecological Indicators for System-wide Assessment of the Greater Everglades Ecosystem Restoration Program. Ecological Indicators, 9:S2-S16.

Doren, R.F., J.C. Trexler, M. Harwell, and G. R. Best, Editors, 2008. System-wide Indicators for Everglades Restoration 2008 Assessment. South Florida Everglades Restoration Task Force, U.S. Department of the Interior, Technical Report. 39pp.

Trexler, J. C., and C. W. Goss. 2009. Aquatic Fauna as Indicators for Everglades Restoration: Applying Dynamic Targets in Assessments. Ecological Indicators, 9:S108-S119.
Trexler, J. C., W. F. Loftus, and J. Chick. 2003. Setting and monitoring restoration goals in the absence of historical data: The case of fishes in the Florida Everglades, pp 351-376. In D. Busch and J. C. Trexler. Monitoring Ecoregional Initiatives: Interdisciplinary Approaches for Determining Status and Trends of Ecosystems. Island Press
Contact the principal investigator directly with questions about this study,
or to receive copies of related publications.
Aquatic, Communities, Everglades, National Park, Data, Synthesis, Ecosystem, Assessment, Evaluation, CESI, Critical Ecosystem Studies Initiative, Trexler, Joel, Goss, Charles
Last updated: October 3, 2018