Targets for Western Biscayne Bay
The productivity and richness of the nearshore communities of Biscayne National Park have been affected, as have those throughout Biscayne Bay, by channel creation and the diversion of fresh water away from the natural systems in south Florida. The quantity, timing, and distribution of fresh water along the coast have been significantly altered, diminishing the ecological and economic value of the historically estuarine waters of western Biscayne Bay.
Based upon both historical record and current research, the National Park Service developed a description of the desired future conditions for the estuarine resources of Biscayne National Park. A suite of biological indicators were used to identify salinity levels and flow volume targets that would support the restoration of a productive, diverse benthic seagrass community. Two reports, available below for download, detail these recommendations.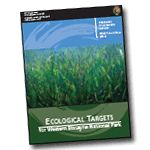 Ecological Targets for Western Biscayne National Park
(PDF, 1.4 MB)
Last updated: April 14, 2015