2010 Everglades Seagrass Workshop
The South Florida Natural Resources Center hosted a Florida Bay Seagrass workshop in March 2010. The purpose of this workshop was to: 1) highlight recent trends in Florida Bay seagrass communities, 2) present research projects results from recently completed studies, and 3) refine short and long-term research needs of ENP. We invited research collaborators and agency representatives to the workshop to discuss recent developments in Florida Bay and to help develop priorities for short term monitoring and research needs to help answer questions associated with the health of the seagrass communities in Florida Bay. We have hyperlinks to copies of each of the individual presentations below.
In the near future we hope to post notes collected during the afternoon panel discussions, and videos of each of our presentations. If you have questions about this workshop, please contact Dr. Jerry Krueger, Science Coordinator for Everglades National Park.

Thank you for visiting our 2010 Seagrass Workshop page. We are currently updating our content to meet the Web Content Accessibility requirements as mandated by the Americans with Disabilities Act. If you would like digital copies of any of the materials, please contact the Science Communications Team at e-mail us. Thank You.
Presenters: Carol Mitchell, Everglades National Park Dave Hallac, Everglades National Park Jerry Krueger, Everglades National Park Tracy Ziegler, Everglades National Park

Duration:

6 minutes, 17 seconds
2010 Everglades Seagrass Workshop:
Welcome and Introduction PowerPoint
Carol Mitchell, Dave Hallac, Jerry Krueger & Tracy Ziegler
(PDF, 1MB)
Presenter: Erik Stabenau, Everglades National Park

Duration:

28 minutes, 18 seconds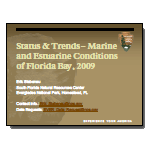 Status & Trends: Marine and Estuarine Conditions of Florida Bay, 2009
Erik Stabenau
(PDF, 1.1 MB)
Presenters: Michael J. Durako, University of North Carolina Wilmington Jennifer I. Kunzelman, University of North Carolina Wilmington Elizabeth F. Belshe, University of North Carolina Wilmington Kathryn M. Chartrand, University of North Carolina Wilmington Amanda E. Kahn, University of North Carolina Wilmington

Duration:

29 minutes, 40 seconds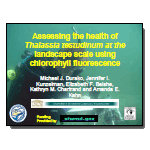 Assessing the Health of Thalassia testudinum at the Landscape Scale Using Chlorophyll Fluorescence
Michael J. Durako, Jennifer I. Kunzelman, Elizabeth F. Belshe, Kathryn M. Chartrand, & Amanda E. Kahn
(PDF, 2.2 MB)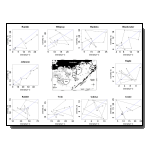 Durako Lag Plots from Florida Bay
Michael J. Durako
(PDF, 115 KB)
Presenter: Marguerite Koch, Florida Atlantic University

Duration:

24 minutes, 41 seconds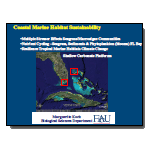 Coastal Marine Habitat Sustainability
Marguerite Koch
(PDF, 4.1 MB)
Presenter: Chris Avila, Miami-Dade DERM

Duration:

21 minutes, 14 seconds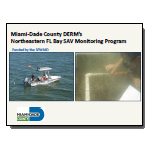 Miami-Dade County DERM's Northeast Florida Bay SAV
Monitoring Program
Chris Avila
(PDF, 2 MB)
Presenter: Jim Fourqurean, Florida International University

Duration:

29 minutes, 9 seconds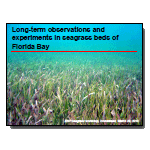 Long-term Observations and Experiments in Seagrass
Beds of Florida Bay
Jim Fourqurean
(PDF, 1.3 MB)
Presenter: M. O. Hall, Florida Fish and Wildlife Conservation Commission

Duration:

16 minutes, 36 seconds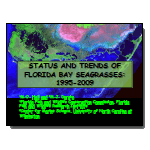 Status and Trends of Florida Bay Seagrasses 1995-2009
M. O. Hall
(PDF, 4.7 MB)
A Synthesis of Models for Analysis of Everglades Impacts and Restoration
Christopher J. Madden
(PDF, 1.5 MB)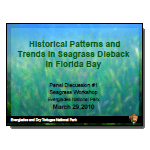 Afternoon Panel Discussions
Facilitators: Jim Fourqurean, Tracy Ziegler, & Dave Hallac
(PDF, 420 KB)
Last updated: October 3, 2018