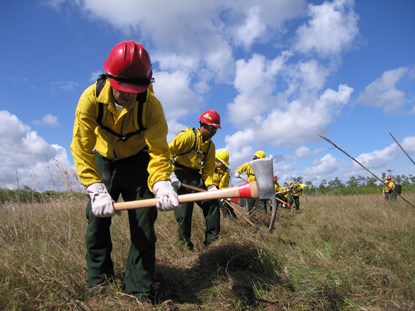 An introductory course designed to train entry-level firefighters. Participants will gain knowledge of the basic incident management organization, firefighting techniques, suppression equipment, safety, strategy/tactics, and fire behavior. Weather permitting, field exercises will be held for valuable hands-on-training. This course encompasses both field and classroom units. Field sessions are not optional. Length: 40 hours.
Upon completion of the course, students will be able to:
• Explain what the LCES (Lookouts, Communications, Escape Routes, and Safety Zones)
system is and how it relates to the Standard Firefighting Orders.
• Construct fireline to required standards using various methods.
• Strengthen, reinforce, and use holding actions on a fireline.
• Extinguish the fire with or without the use of water.
• Complete assigned tasks in a safe and efficient manner.
• Given an assignment in a wildfire environment, describe factors in that environment which
could impact safety.
*Participants are required to provide their own lunches.
**Participants are required to bring their own 8" leather boots with Vibram soles.
To register for S 130/190 for February 9-13, 2015. Please print and fill out the NWCG nomination form.
All NWCG nomination forms should be submitted to the Course Coordinator via email or fax.
Course Coordinator: Marc Lequieu, e-mail us or fax 305-246-9197.
For more information, please contact Everglades Fire Information at 305-242-7053.