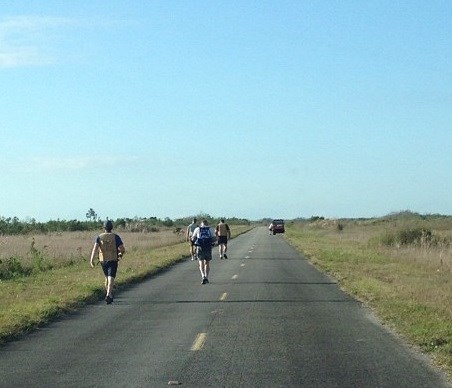 The National Wildfire Coordinating Group adopted the Pack Test as the mandatory physical fitness standard for federal wildland firefighters in 1998.
The Pack Test was designed to measure muscular strength and endurance as well as aerobic fitness.
To become a qualified firefighter, Red Carded, participants must demonstrate their ability to perform under physically rigorous conditions, including passing the Arduous Pack Test. Firefighters must walk 3 miles, within 45 minutes, wearing 45 pounds of gear.
Federal agencies have also implemented the companion Medical Qualifications Program. This requires each Pack Test participant to complete a Health Screening Questionnaire (HSQ) prior to taking the test. Some participants may be required to have a medical examination to clear them prior to taking the Pack Test.
To register to for the Pack Test administered at the Robertson Building in Everglades National Park on Friday, January 16, 2015 from 8:30 a.m.-9:30 a.m., please print the Health Screening Questionnaire and fax it to 305-242-7855.