Gulf Coast Site Redevelopment Project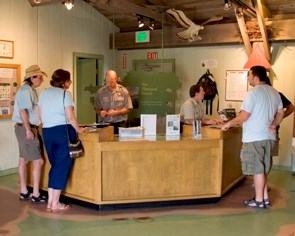 Note: This project is associated with the Draft General Management Plan (GMP)/East Everglades Wilderness Study/ Environmental Impact Statement that many of you have been involved with over the years. Please read the newsletter (link below) to understand the context for this project and the initial options being considered. We encourage you to attend the January 19, 2012 meeting and provide your input by February 3rd on what you see as the best path forward.
The National Park Service has decided to reexamine the long-term direction for redeveloping the Gulf Coast Visitor Center site in Everglades City (and separately for the redevelopment of Flamingo) due to severe budget constraints and the suceptibility of these low-lying coastal sites to intense storms and flooding.
The park has identified some initial options for the site and is now seeking ideas and suggestions from the public on how best to provide visitor opportunities, meet park operational needs, and support future concessions operations in the Gulf Coast District.
There will be a public meeting on January 19, 2012 at the Big Cypress National Preserve Welcome Center on Tamiami Trail from 5:30 to 8:00 p.m. to discuss these topics. The public comment period continues through February 3, 2012 and provides an important opportunity to hear from you regarding the long-term strategy for the park's gateway to the Ten Thousand Islands and Wilderness Waterway.
To view additional project details, newsletter, public meeting information and to post your comments, visit the Planning, Environment & Public Comment (PEPC) site.
Last updated: April 14, 2015