Everglades National Park Visitation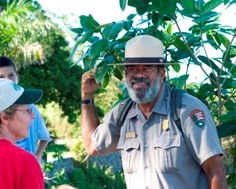 Everglades National Park keeps track of the total number of visitors that enter the park through its two entrance stations (Homestead and Shark Valley). While this doesn't include those who enter through the nearly 1/2 million acres of surrounding waters, it helps park managers identify the needs of visitors.
A variety of statistics are available about each National Park across the country individually and collectively through the National Park Public Use Statistics Office.
Click here
if you'd like to go this website for additional detailed information about visitors to your national parks. The site allows you do search by year, month, or select a series of either.
Last updated: April 14, 2015