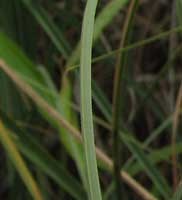 Welcome to the Sawgrass Prairie!

Before we can really talk about this habitat, we should first take a look at the plant that helps to give this habitat its name: sawgrass.
Sawgrass is a tall plant that if examined closely will reveal tiny ridges, or teeth, along the length of its sides.
If you're not careful, these ridges could give you a small cut (somewhat like a paper cut), as the edges can be pretty sharp.