Freshwater Slough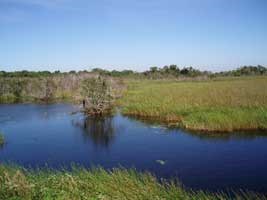 The freshwater slough is without a doubt a very wet habitat.
Even in the dry season, you can find water in the deeper parts of the slough.
Its very name, the freshwater slough (which sounds like slew and rhymes with two) means a deeper body of slow moving water.
So how many sloughs are there in the Everglades?
The answer is two!
The Shark River Slough found in Shark Valley and the Taylor Slough which flows near Royal Palm.
Take a look at this photo. It's a picture of a hiking trail known as the Anhinga Trail, (which crosses over part of Taylor Slough).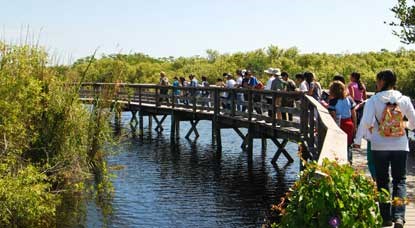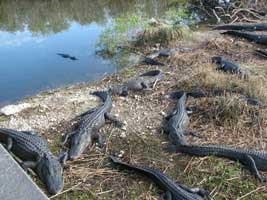 You can find many animals in the slough, but the busiest time of the year is during the season with the least amount of rain.
You guessed it, the dry season!
When other habitats are drying up in the Everglades, the slough is an excellent place for animals to visit.
The availability of water in this habitat through the months of December to early April and May, makes it a popular place for park visitors to visit if they wish to spot Everglades wildlife.
Last updated: April 14, 2015