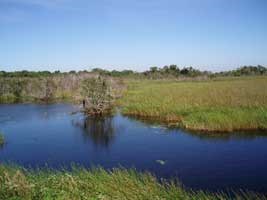 The freshwater slough is without a doubt a very wet habitat.
Even in the dry season, you can find water in the deeper parts of the slough.
Its very name, the freshwater slough (which sounds like slew and rhymes with two) means a deeper body of slow moving water.
So how many sloughs are there in the Everglades?
The answer is two!
The Shark River Slough found in Shark Valley and the Taylor Slough which flows near Royal Palm.