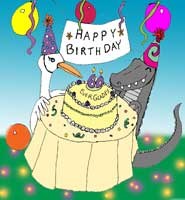 Did you know?
Everglades National Park celebrates it's birthday on
December 6th.
How old is Everglades National Park?

Before there was an Everglades National Park there was Everglades, the ecosystem. This Everglades has been around for 5,000 years!
The original Everglades used to reach all the way from the Orlando area to Florida Bay.
It was a big wilderness of wetlands containing sawgrass marshes, freshwater sloughs, mangrove swamps, pine rocklands and hardwood hammocks.
So how did Everglades become a National Park?