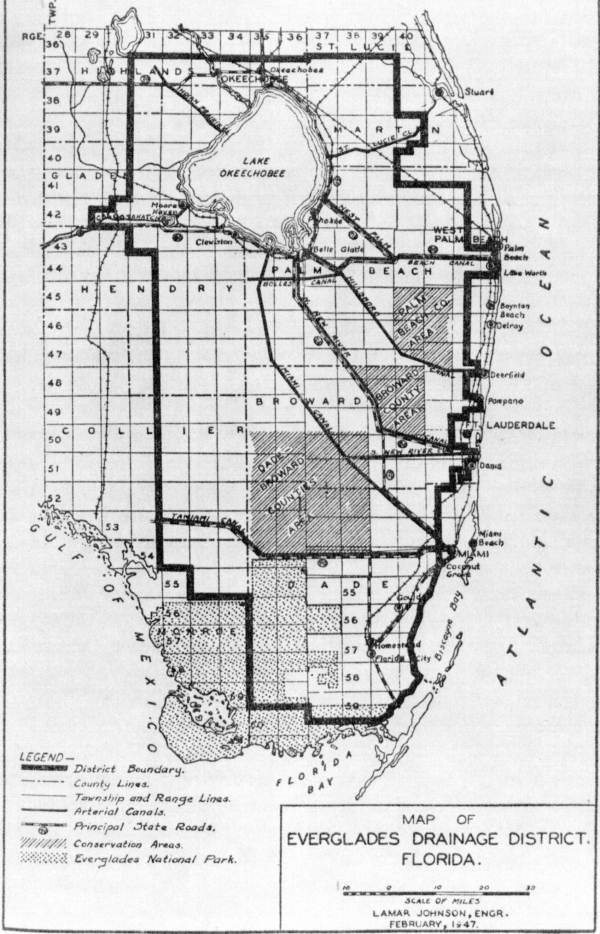 Draining the Everglades
The notion of draining the vast wetland persisted into the 20th century. Expanded dredging efforts between 1905 and 1910 transformed large tracts from wetland to agricultural land. This abundance of "new" land stimulated the first of several south Florida land booms. Railroads constructed by entrepreneurs like Henry B. Plant and Henry M. Flagler made the region more accessible and attractive to tourists. By the 1920s visitors and new residents flocked to blossoming towns like Fort Lauderdale, Miami, and Fort Myers. As they arrived, developers cut more canals and built new roads. To ensure good ocean views, they removed mangroves from the shorelines and replaced them with palm trees. Little by little canals, roads, and buildings displaced native habitats.
The year 1948 marked an even greater change when Congress authorized the Central and South Florida Project. This involved the construction of an elaborate system of roads, canals, levees, and water-control structures stretching throughout South Florida. Constructed by the Army Corps of Engineers, and sponsored by the Central and Southern Flood Control District (later redesignated the South Florida Water Management District), the project purposes were to provide water and flood protection for urban and agricultural lands, a water supply for Everglades National Park, the preservation of fish and wildlife habitat, facilitate navigation and recreation, and the prevention of salt water intrusion. While the project still provides many of the intended benefits, the alteration of regional wetland areas, estuaries, and bays — combined with increasing population pressures and changing land uses — has significantly degraded the natural system.