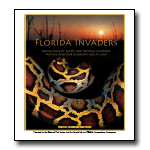 The Natural Resource Management and Protection division of Everglades National Park aims to conserve and optimize ways to restore the natural resources in this diverse ecosystem.
Donation funding assists the mission by providing means for this division to inform the community via pamphlets and newspaper excerpts such as the south Florida edition of the Florida Invaders. This newspaper supplement informs the public about the impacts of nonnative species in south Florida and encourages responsible actions to prevent continued release and spread.
Sustained donation funding supported the addition of a newspaper supplement to enlighten the community on the invasive Monk Parakeet. This nonnative bird builds communal nests on power lines and related structures leading to often costly repairs. Through donations, over 400,000 copies of the publication were distributed within local newspapers.