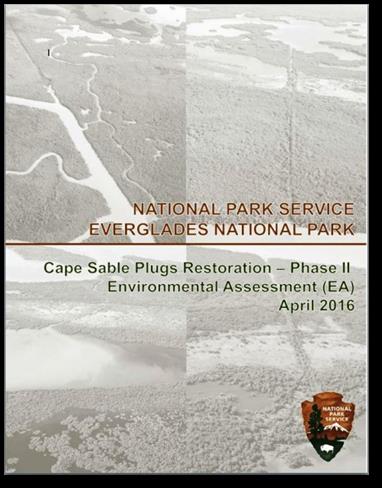 Cape Sable Plugs Restoration Phase II Environmental Assessment
The Environmental Assessment (EA) for the Cape Sable Plugs Phase II Restoration project was released for public review on April 27th.This project is intended restore natural ecological processes in the Cape Sable region by eliminating the unnatural exchange of salt and freshwater through man-made canals which has damaged wetlands, wildlife habitat and the marine environment.
The EA evaluates two action alternatives for Raulerson Canal and two action alternatives at House and Slagle Ditches, along with a no-action alternative at each site. The preferred alternative at Raulerson Canal is to construct a 100-foot-long sheet pile and fill plug with rip rap erosion protection (Alternative 4A).The preferred alternative at House and Slagle Ditches is to backfill the eroded plugs to their original configuration (Alternative 2).
The 30-day public comment period closed on May 27th and the planning team is carefully considering the comments received. It is anticipated that a NEPA decision document will be completed in July, 2016.The EA and a 2012 Feasibility Study for repairing or replacing the failed plugs are available to review or download on the PEPC page at: http://parkplanning.nps.gov/documentsList.cfm?projectID=56562