American Recovery and Reinvestment Act Everglades Projects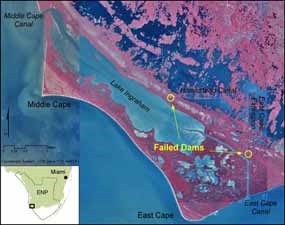 Summary of the Homestead Canal ARRA Project
The National Park Service has been awarded $7 million dollars of American Reinvestment and Recovery Act (ARRA) funds to implement the Cape Sable dam project, an important restoration effort in Everglades National Park. This project will replace dams in the southern portion of the park adjacent to Florida Bay that have failed and threaten the ecological health of many park habitats and species dependent on those habitats.

In addition, this project has helped the local economy by creating 14 jobs that would not have been part of the south Florida economy. Currently, there are over 40 people working on this project.

Construction of the canal plugs began October 1, 2010 and is scheduled to be completed by March 31, 2011. Closures will affect the Homestead Canal and East Cape Canal areas in the park. more...
Last updated: April 14, 2015